Timothée Chalamet Joins Denis Villenueve's 'Dune' Cast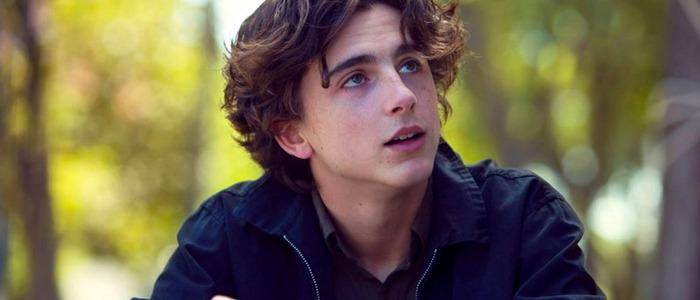 Timothée Chalamet is in talks to join Denis Villenueve's Dune, an adaptation of the epic Frank Herbert sci-fi novel. The Call Me By Your Name star will play Paul Atreides, a character played by Kyle MacLachlan in David Lynch's weirdo adaptation of the same novel.Deadline has the scoop on Chalamet's potential casting. The actor has made a name for himself with several prominent indie movie roles, including Call Me By Your Name and Lady Bird. Now, Chalamet is ready to jump into the world of blockbuster filmmaking with Dune. Denis Villeneuve, who previously helmed the art-house sci-fi film Blade Runner 2049, is directing the new adaptation for Legendary Pictures.
Chalamet is in talks to play Paul Atreides, the main character of the sprawling novel. The book, which is almost impossible to sum up concisely, is set on the desert planet Arrakis and tells the story of "Paul Atreides—who would become known as Muad'Dib—and of a great family's ambition to bring to fruition humankind's most ancient and unattainable dream." There's also a ton of talk about "the spice", "the drug gives its users heightened consciousness and an extended lifespan at the cost of crippling addiction and fatal withdrawal."
This won't be the first Dune adaptation. In the 1970s, Alejandro Jodorowsky attempted to mount a weird, mind-bending Dune adaptation that never came to pass (the saga of this failed adaptation is covered in the documentary Jodorowsky's Dune). In 1984, David Lynch brought Herbert's novel to the big screen, with mixed results. Frank Herbert himself said he approved of the adaptation, but reviews have not been kind, and Lynch has all but disowned the film at this point. In 2000, the Sci-Fi Channel released a mini-series adaptation of the book, which ended up being one of the highest-rated programs in Sci-Fi's history.
Villenueve has called his new adaptation of the book "Star Wars for adults", and added:
"Dune is a novel that I read a very long time ago, and it still is one of my favourite novels specifically of sci-fi. I always dreamed to do Dune. I remember how excited I was before seeing the David Lynch adaptation. David Lynch is, as we all know, one of the most talented and powerful filmmakers of the past 50 years. But I felt that there were things in his approach that I didn't like. Things that I deeply love, but things I didn't like. It was not the Dune I was dreaming of, and I'm still dreaming about it."
I've never read Dune, but I'm a big fan of Villenueve's work, particularly Blade Runner 2049, which I think is a film that will be celebrated years from now as an unsung masterpiece. Adding Chalamet to the cast is a huge plus as well – he's a phenomenal young actor, and I'm very curious to see him appear in a big sci-fi epic.