Harrison Ford Will Answer The 'Call Of The Wild'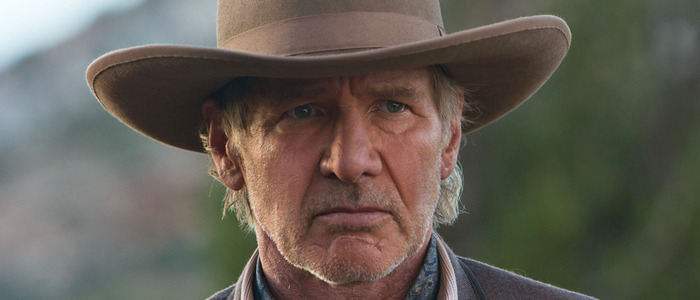 Harrison Ford has some free time on his hands now that Indiana Jones 5 has been bumped back to 2021. As a result, the grumpy actor prone to occasionally crashing his private plane has decided to take a role in another film: Call of the Wild. The Jack London adaptation will find Ford playing a grizzled prospector. 
Rather than sit back and wait for the delayed Indy 5, Harrison Ford is going to get to work answering the Call of the Wild. Variety reports the actor is joining the cast of the film, adapted by the classic Jack London novel of the same name. The book is told from the point of view of a dog, but I am sad to report Ford will not be playing a canine. He'll instead play a human character. Here's the book's synopsis:
Part St. Bernard, part Scotch shepherd, Buck is a sturdy crossbreed canine accustomed to a comfortable life as a family dog — until he's seized from his pampered surroundings and shipped to Alaska to be a sled dog. There, the forbidding landscape is as harsh as life itself during the gold rush of the 1890s. Forced to function in a climate where every day is a savage struggle for survival, Buck adapts quickly. Traces of his earlier existence are obliterated and he reverts to his dormant primeval instincts, encountering danger and adventure as he becomes the leader of a wolf pack and undertakes a journey of nearly mythical proportions. Superb details, taken from Jack London's firsthand knowledge of Alaskan frontier life, make this classic tale of endurance as gripping today as it was over a century ago. One of literature's most popular and exciting adventure stories, The Call of the Wild will enrich the reading experience of youngsters, and rekindle fond memories of a favorite among older generations.
Per Variety, Ford will play "John Thornton, a prospector braving the Yukon on the hunt for gold." This won't be the first Call of the Wild adptation. London's book was also adapted in 1935, where Clark Gable played the role of Thornton, and 1972, where Charlton Heston played the part. This latest take will be a big budget adaptation for 20th Century Fox, directed by Chris Sanders, the filmmaker behind The Croods.
While this appears to be a mostly live-action adaptation, the movie will also use the work of Technoprops, a a special effects studio run by Glenn Derry, who worked on the effects of Avatar. Production on Call of the Wild begins in September. I still really wish Ford were playing one of the sled dogs, though.