'The Darkest Minds' Trailer: Super-Powered Teens Find Love Amid The Resistance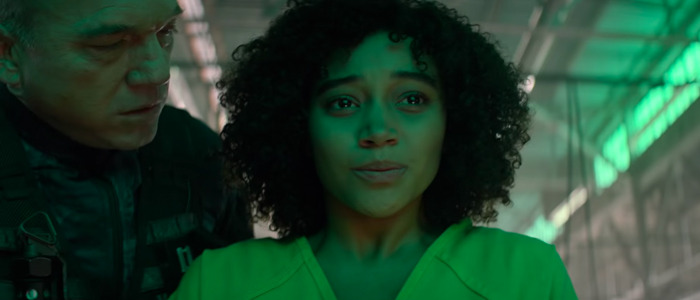 We may receive a commission on purchases made from links.
After directing Kung Fu Panda 2 and 3, filmmaker Jennifer Yuh Nelson is making the jump to live-action with The Darkest Minds, an adaptation of a YA novel about kids who develop super powers and strike back against their oppressive captors. 20th Century Fox has just released a new trailer, which concentrates more on the love story between Ruby (Amandla Stenberg) and Liam (Harris Dickinson), two of the most powerful mutants – uh, I mean, super-powered teenagers – of the revolution.
The Darkest Minds Trailer
It's clear that this adaptation of author Alexandra Bracken's book series is heavily inspired by Marvel's X-Men, both in the way it uses emerging superpowers as a metaphor for puberty and in how a plot point seems to be directly lifted from the same studio's Logan: oppressed kids must fight against the odds and find a safe haven where they can live out their lives in peace.
Bracken's first book in this series was published back in 2013, but it's impossible to watch this trailer and see imagery of children in cages and not draw a line between what is happening in the United States right now. It's unclear what effect that might have on this film's box office potential, but perhaps the catharsis of actually seeing these kids escape from their oppressive government will give it a boost with audiences. And never underestimate the power of a well-told teen love story, because those can be box office surprises waiting to happen.
Amandla Stenberg (The Hunger Games) and Harris Dickinson – who is not Nick Robinson from Jurassic World despite looking just like him – lead a cast that includes Skylan Brooks (The Inevitable Defeat of Mister and Pete), Miya Cech (American Horror Story), Gwendoline Christie (Game of Thrones), and Mandy Moore (This Is Us). Jennifer Yuh Nelson directs, and the screenplay is by Chad Hodge (Wayward Pines).
Here's the official synopsis:
When teens mysteriously develop powerful new abilities, they are declared a threat by the government and detained. Sixteen-year-old Ruby, one of the most powerful young people anyone has encountered, escapes her camp and joins a group of runaway teens seeking safe haven. Soon this newfound family realizes that, in a world in which the adults in power have betrayed them, running is not enough and they must wage a resistance, using their collective power to take back control of their future.
The Darkest Minds arrives in theaters on August 3, 2018.