'Stranger Things 3' Teaser Video Introduces A Starcourt Shopping Mall To Hawkins, Indiana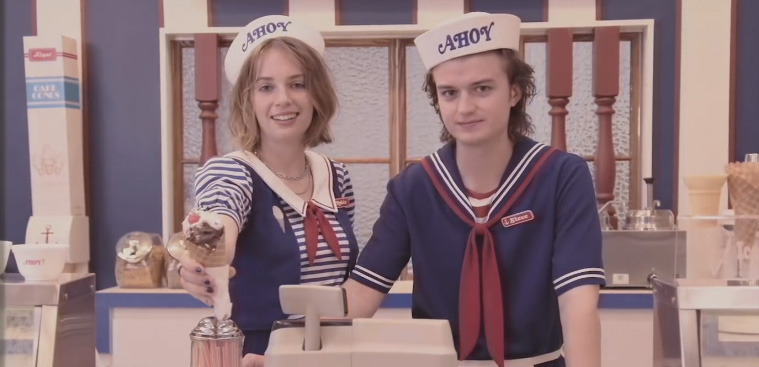 If there's one thing that best defines the 1980s, it's the shopping mall. All the hip, cool kids spent their time aimlessly wandering around the consumer space, rarely spending money. Famed pop star Robin Sparkles even created an entire song about going to the mall (today). So there's no better addition to the Stranger Things setting of Hawkins, Indiana in 1985 than their own shopping mall.
A new Stranger Things 3 teaser video acts as a vintage commercial for the new Starcourt Mall that will bring Hawkins, Indiana into the future. It's safe to say that this setting will prove to be a popular new destination for the kids of the small Midwest town, and I wouldn't be surprised if some kind of monster ended up there too.
Watch the Stranger Things 3 Teaser for Starcourt Mall
While most of the video features a bunch of random extras in their best 1980s wardrobe, you can see in our front page screenshot that two characters from Stranger Things 3 make an appearance. Working at the Scoops Ahoy ice cream parlor in the mall is none other than Joe Keery as Steve. And while you might not recognize the girl working at the shop next to him, you will know she is soon enough.
That's Maya Thurman-Hawke (daughter of Ethan Hawke and Uma Thurman), one of the new cast members in the third season. She's said to be playing an "alternative girl," and now we know that she'll be spending some time with Steve at work, that's bound to create some kind of romantic situation. After all, Nancy Wheeler (Natalia Dyer) was getting cozy with Jonathan Byers (Charlie Heaton) in the second season of Stranger Things, so Steve needs a new love interest and someone else to get caught up in the supernatural Hawkins conspiracy that he's all too familiar with.
The Starcourt Mall is bound to be pretty prominent in Stranger Things 3. After all, it looks like they created a good chunk of a 1980s shopping mall, complete with Claire's, Sam Goody, Waldenbooks, The Gap, Orange Julius and more. It would be a shame to build that nostalgic set for only a few scenes, so I'm betting we'll be spending a lot of time at this location.
Sadly, there isn't a Stranger Things 3 panel happening at San Diego Comic-Con this year, but we'll be on the lookout for any viral campaigns making their way through the crowds at the convention. We don't know when Stranger Things 3 will hit Netflix, but there's a chance it might not arrive until 2019. Stay tuned.