'The Wizard Of Oz' Animated Film Will Retell The Story From Toto's Perspective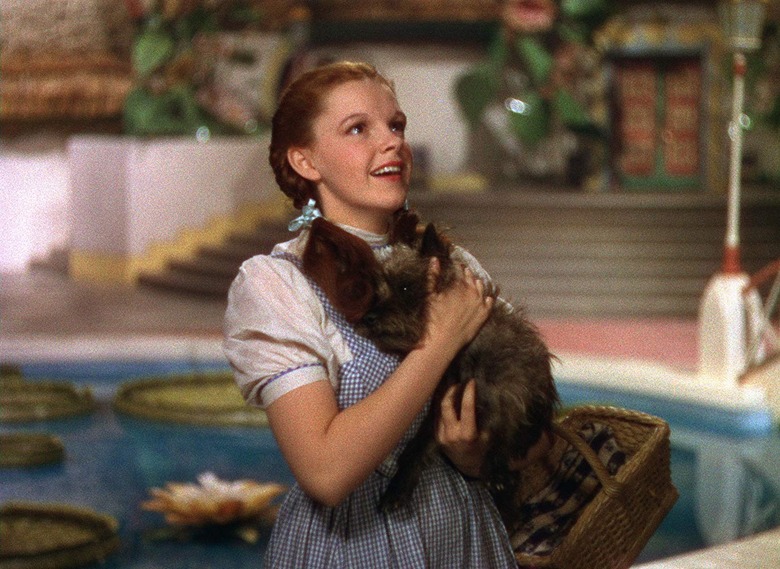 Ever watched The Wizard of Oz and thought: this could be better if it was told entirely from the perspective of Dorothy's dog, Toto? Well you're in luck because Warner Bros. is developing an animated film based on Michael Morpurgo's children's book Toto: The Dog-Gone Amazing Story of the Wizard of Oz. Because let's be honest, we could all do with some more good dogs in our lives.
Warner Bros. is developing a Wizard of Oz animated film that will retell the classic 1939 film from the perspective of Toto, the Cairn terrier who accompanied Judy Garland's Dorothy on a whirlwind trip through the fantastical land of Oz. Titled Toto, the animated film will be penned by Mark Burton (Early Man, Shaun the Sheep, Wallace and Gromit: The Curse of the Were-Rabbit).
The Hollywood Reporter first reported the film, which is still in pre-production.
It's unknown if the animated film will be drawn in the style of Emma Chichester Clark's illustrations for the children's book, but it will feature a talking Toto. No director has yet been attached to the film.
Here is the synopsis for Morpurgo's children's book, Toto: The Dog-Gone Amazing Story of the Wizard of Oz:
From master storyteller MICHAEL MORPURGO, and illustrated in stunning colour by the award-winning EMMA CHICHESTER CLARK, comes a surprising, charming and uplifting twist on The Wizard of Oz, told by a very special and unforgettable character: Dorothy's pet dog, Toto. A perfect, collectible gift for all children (and children at heart). "I was there," Papa Toto said, and those magic words sent shivers down my spine. It was going to be the Wizard story. "Dorothy and me were both there."We were all silent, snuggled up together, waiting, waiting.Then Papa Toto began... When a twister descends on their Kansas farm, Toto and his owner Dorothy hide in the house – only to be plucked into the air and whisked away! Coming down with a crash in the mysterious land of Oz, the pair meet a series of extraordinary characters: a scarecrow who believes he has no brains, a tin man without a heart, and a cowardly lion who may not be as cowardly as he thinks he is. But Toto and Dorothy are desperate to return home – after all, home is home, and home is best! So they set off with their new friends on a journey down the yellow brick road to find the only person who might be able to help them: the Wonderful Wizard of Oz. But what they find might surprise them. And on the way, all of them will learn that what they think they are missing might have been there, all along...
So with a talking Toto, we can now complete the trilogy of childhood icons given an unsettling voice and weirdly mature personality in a major motion picture (
Detective Pikachu
and 
Sonic
). But I wonder if Warner Bros. will add the clever twist of making 
Toto
completely black and white — as a nod to the 1939 classic film and the fact that dogs are, you know, color blind.