Walter White And Jesse Pinkman Will Not Appear In 'Better Call Saul' Season 4 [Comic-Con 2018]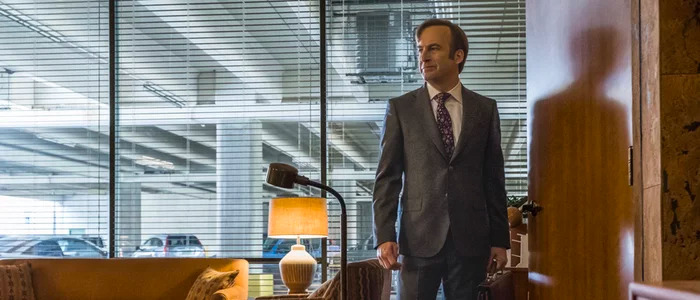 After three seasons, Better Call Saul has managed to cement itself as a show that's somehow better than its predecessor, Breaking Bad. The cast and creator of the AMC series gathered at Comic-Con to discuss the upcoming season, which takes Jimmy McGill further down the path to becoming Saul Goodman. During the course of the panel, creator Vince Gilligan confirmed that neither Walter White nor Jesse Pinkman will pop-up in the upcoming season. More on the Better Call Saul season 4 Comic-Con 2018 panel below.
The Better Call Saul Season 4 Comic-Con Panel 
Breaking Bad was one of the most influential shows of the 21st century. The type of show immediately associated with "peak TV." But its spin-off, Better Call Saul, has become something different, and better. The show chronicles the rise and fall of Jimmy McGill (Bob Odenkirk), the man who would one day become Saul Goodman. Odenkrik, Giancarlo Esposito, Rhea Seehorn, Michael Mando, Patrick Fabian, Vince Gilligan and co-creator Peter Gould all converged on Hall H to discuss the upcoming season.Host Bill Burr (who appeared on Better Call Saul's predecessor Breaking Bad) lead Gilligan and Gould, and the cast members, through a series of mostly light-hearted (and frequently laugh-out-loud funny) questions regarding the show's approaching season. "Did anyone not see the ending [of season 3] before I say this?" Burr asked, before talking about the season 3 death of Jimmy's brother Chuck. "Block your ears; stick a couple of lightsabers in there."
After unleashing the latest, intense trailer upon a very receptive Hall H crowd, the cast and crew proceeded to spend the bulk of the panel effusively praising the fans who keep the show going, while also praising the show as a whole. The entire main cast of the series was present – save Jonathan Banks, who plays cop-turned-criminal Mike Ehrmantraut on the show. Banks was scheduled to appear, but is undergoing knee surgery. ("If he gets new knees, will he be less crabby?" cracked Odenkirk).
Gilligan told the crowd he has "stepped away" since the series' creation, leaving most of it in the hands of Gould and the writers. Because of his distance from the series now, Gilligan revealed he's able to watch Saul not just as a creator, but as a fan. And he promised that "season 4 is the best season yet" – the funny moments are funnier, the darker moments are darker, and the show continues down it's dangerous path. 
Ever since Better Call Saul's beginning, fans have wondered which Breaking Bad characters might make an appearance, and the upcoming season in particular appears to be leaning heavily into this question. Gilligan said that virtually every Bad character has a chance at showing up on the prequel series, and star Odenkirk coyly added: "There's one scene [this season] that could've been on Breaking Bad, because...you want to finish that sentence some clever way?" While the cast and creators did their best to avoid spoiling which Bad characters might show up in season 4, Gilligan was nice enough to confirm who we won't see: Walter White and Jesse Pinkman. The two main Breaking Bad characters will definitely not be showing up for the new season, but Gilligan and Gould didn't rule out a future in which the events of Saul are running concurrently to those of Breaking Bad, Rosencrantz and Guildenstern are Dead style.
Still: you can definitely expect a lot more Bad crossover this season. "You're going to see some stuff that'll look very familiar in a delightful way," said Peter Gould.  "I can't wait to tell everybody whats happening, but I'm not allowed to," Odenkirk said, adding: "If you love Breaking Bad, you're going to get to see that world expand a bit...you're going to meet people who were referenced in Breaking Bad, but you've never met." One such character: Lalo, someone Jimmy McGill's alter ego Saul Goodman referenced in Breaking Bad. The character will be played by Tony Dalton in Better Call Saul season 4.We all know where Better Call Saul is going: Jimmy McGill will fully transform into Saul Goodman, shady criminal lawyer. For Odenkirk, the journey is bitter sweet, simply because he loves playing the much-nicer Jimmy to Saul. As the actor tells it, you want Jimmy to make nicer, more upbeat choices, but Saul Goodman is a "bad guy". "It hurts my heart a bit to see Jimmy turning to Saul," the actor said, later quipping that he's asked if they could just change the name of the show so he would never have to turn into Saul. 
While we know the fate of Jimmy/Saul, and several other Saul characters – Mike, Giancarlo Esposito's drug lord Gus Fring – there are still some whose fate remains a mystery. Most particularly, Rhea Seehorn, playing Jimmy's girlfriend Kim Wexler. According to Seehorn, she loves the various fan theories about what happened to her character between Saul and Bad. Kim could be "in prison, dead, [or] in a basement but still alive." Odenkirk went on to add  a theory of his own – when we saw Saul on Breaking Bad, we never saw him outside of work; we never saw his home life. Which means that maybe, just maybe, "Saul" and Kim could still be together in Breaking Bad.
Do I believe this theory will turn out to be true? No, I don't. But I want it to be, because I love Kim Wexler, and would hate to find out her character has been killed off in-between shows. As for why Kim stays with Jimmy after he makes so many terrible choices, the cast and creators hinted that this season will delve into that question more. And there's a good chance the results won't be pleasant.
Unpleasantness is par for the course for Better Call Saul, and yet the show remains one of the most entertaining TV series on the air right now.
Better Call Saul returns on August 6, 2018.
In Better Call Saul's fourth season, Chuck's death catalyzes Jimmy McGill's transformation into Saul Goodman. In the wake of his loss, Jimmy takes steps into the criminal world that will put his future as a lawyer — and his relationship with Kim — in jeopardy. Chuck's death deeply affects former colleagues Howard (Patrick Fabian) and Kim as well, putting the two of them once again on opposite sides of a battle sparked by the Brothers McGill. While Mike takes a more active role as Madrigal Electromotive's newest (and most thorough) security consultant. It's a volatile time to be in Gus Fring's employ, as Hector's collapse sends shock waves throughout the Albuquerque underworld and throws the cartel into chaos — tearing apart both Gus and Nacho's well-laid plans. While Gus changes course, Nacho finds himself in the crosshairs of deadly forces.