'Bill And Ted 3' Is Facing Some Totally Bogus, Potentially Dire Production Problems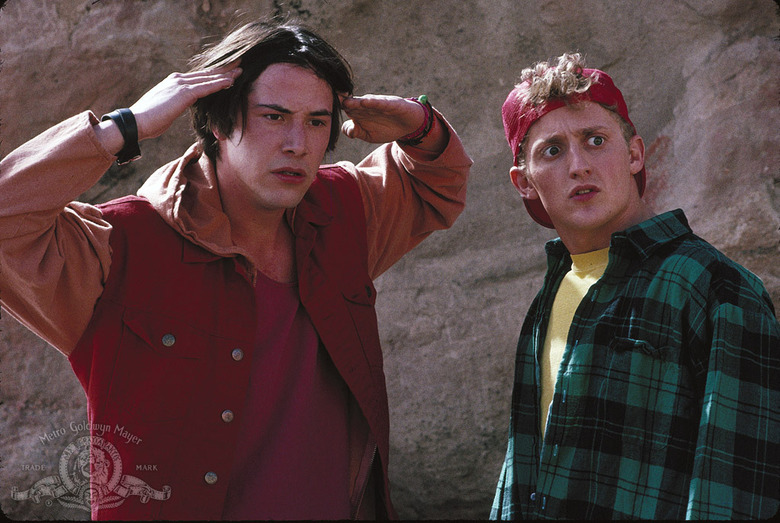 Bill and Ted Face the Music may have to, well, face the music. The long-awaited third Bill and Ted film is facing serious production problems that could kill the movie altogether. And this time, they may not be able to play Battleship with Death to bargain for a second life.
Two months after Bill and Ted Face the Music was officially confirmed to be moving forward at MGM with original stars Keanu Reeves and Alex Winter on board (they even did an Entertainment Weekly photoshoot!), Reeves warns that the third Bill and Ted may not actually happen.
In an interview with Yahoo! Entertainment, Reeves said that Bill and Ted Face the Music has been plagued by logistical problems that could prevent the film from being made:
"I don't know if [Bill & Ted 3] is a reality. We've been trying for a long time to get that film made, and it still has its challenges. I really love the characters, and I think we have a good story to tell. Part of it is business stuff—financing, rights, deals. Nothing creatively."
Those problems sound like a small hiccup in the production of the long-awaited Bill and Ted sequel, but financing and copyright issues are the problems that can most often torpedo a movie. Hollywood is still a business after all, and business could be the thing that endangers Bill and Ted Face the Music. Though our beloved Bill S. Preston and Theodore Logan have never been that business-minded to begin with.
Hopefully Bill and Ted Face the Music won't actually have to face the music and halt production. Fans have been waiting so long for this film — and it could just the right brand airheaded optimism that we sorely need in this day and age.
Here is the current synopsis for Bill & Ted Face the Music:
When we last met Bill and Ted they were time-traveling teenagers trying to pass history class and win the battle of the bands. Once prophesized to save the universe with their rock and roll, middle age and the responsibilities of family have caught up with these two best friends who have not yet fulfilled their destiny. They've written thousands of tunes, but they have yet to write a good one, much less the greatest song ever written. With the fabric of time and space tearing around them, a visitor from the future warns our heroes that only their song can save life as we know it. Out of luck and fresh out of inspiration, Bill and Ted set out on a time travel adventure to seek the song that will set their world right and bring harmony in the universe as we know it. Together with the aid of their daughters, a new crop of historical figures, and some sympathetic music legends, Bill and Ted find much, much more than just a song.