'Frozen 2' Snags Evan Rachel Wood And Sterling K. Brown As New Cast Members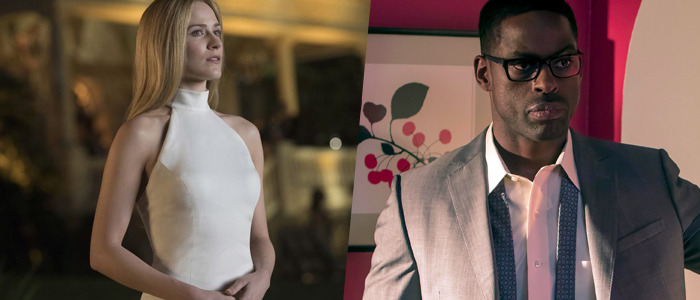 Evan Rachel Wood and Sterling K. Brown are heading to Arendelle. Fresh off of their piping hot Emmy nominations for their work in the most recent seasons of Westworld and This Is Us, respectively, the pair are now officially joining Walt Disney Animation's Frozen 2 cast.Variety brings the news of their involvement with Frozen 2, but details about their roles in the highly-anticipated sequel are being kept on ice for now. The new additions will join returning favorites Idina Menzel, Kristen Bell, and Josh Gad, who are coming back to play the beloved characters of Elsa, Anna, and Olaf, respectively.
2013's Frozen was a surprise mega-hit, buoyed by an amazing soundtrack that included the Oscar-winning "Let It Go," a song you've probably heard so many times by now that you'd be okay never hearing it again. Details about Frozen 2 have been particularly hard to come by, though when I spoke with writer/director Jennifer Lee at the A Wrinkle in Time junket earlier this year, she told me a tiny bit about the movie, albeit only in the most vague terms. She and co-director Chris Buck weren't initially interested in directing a sequel, Lee said.
But then one day we just made the mistake of talking about something and going, 'Oh my gosh. That's the thing we still haven't explored, and it's important.'
What could that important, unexplored aspect of Anna and Elsa's story be? Perhaps they become self-aware and realize that they're characters designed specifically for the enjoyment of humans, and Evan Rachel Wood reprises her role of Dolores from Westworld to lead them in an uprising against their creators. (That would be the weirdest sequel to a giant animated box office hit since...well, ever.) Or perhaps they all just watched Olaf's Frozen Adventure and need a good cry, and Sterling K. Brown's Randall is there to shed a few tears with them. Regardless of who they're playing, both have distinct voices and are welcome additions to the cinematic kingdom of Arendelle.
Lee and Buck are back to co-direct Frozen 2, and she's also writing the screenplay. Oh yeah, and in addition to that, she's now running Walt Disney Animation in place of the recently-ousted John Lasseter. So yes, Jennifer Lee is an extraordinarily busy woman these days.
Frozen 2 hits theaters on November 27, 2019, which will be six years after the original debuted.