'Zombieland 2' Is Alive With Emma Stone, Woody Harrelson, Jesse Eisenberg, Abigail Breslin Set To Return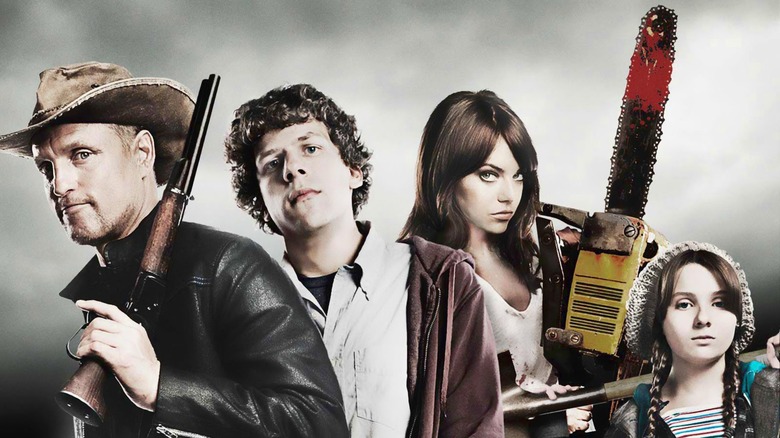 No need to double tap anymore: Zombieland 2 is alive. The long-awaited sequel to the 2009 film is moving forward at Sony nearly 10 years after the original opened, with the original cast all set to return. Hopefully they've stocked up on Twinkies since then.
After years of false starts, Sony is officially moving forward with Zombieland 2, according to The Hollywood Reporter. The original cast and original director Ruben Fleischer, who is directing the studio's upcoming comic book movie Venom, are all set to return.
Emma Stone, Woody Harrelson, Jesse Eisenberg and Abigail Breslin are set to reprise their roles from the 2009 Zombieland in the upcoming Zombieland 2. The four actors played a group of strangers who meet on the road and become a close-knit family unit amidst a post-apocalyptic zombie outbreak. In a fun twist, the strangers went by the names of their hometowns: Eisenberg played a geeky survivor named Columbus, Harrelson was the unhinged Tallahassee, and Stone and Breslin were the cunning sisters Wichita and Little Rock, respectively.
In the new film, the quartet will move from "the White House to the American heartland as they face off against new kinds of zombies that have evolved since the first movie, as well as some new human survivors," THR reports.
Made on a relatively small budget of just under $24 million and starring relative unknowns before they became big stars (save for Harrelson), the original Zombieland went on to become a cult hit and a sort of launchpad for the careers of Eisenberg, Stone, and Breslin, all of whom are now Oscar nominees or winners. This explains why it took so long for the sequel to come together, with the greatly increased star power (and paychecks) of the original cast.
Columbia Pictures president Sanford Panitch in a statement:
"This is one of those projects that fans have wanted to see happen for a long time – and no one wanted to see it happen more than Emma, Woody, Jesse, and Abigail. These are some of the most in-demand actors and I think they are making this movie because they love these characters. We are thrilled Ruben was willing to come back to direct the sequel, as his work on Venom has been truly amazing."
Production on Zombieland 2 is set to begin in January 2019, with a scheduled release date in October 2019 — the 10th anniversary of the original film.