The Cast Of 'Brooklyn Nine-Nine' On Diversity, Getting Saved By NBC, And What To Expect From Season 6 [Comic-Con 2018]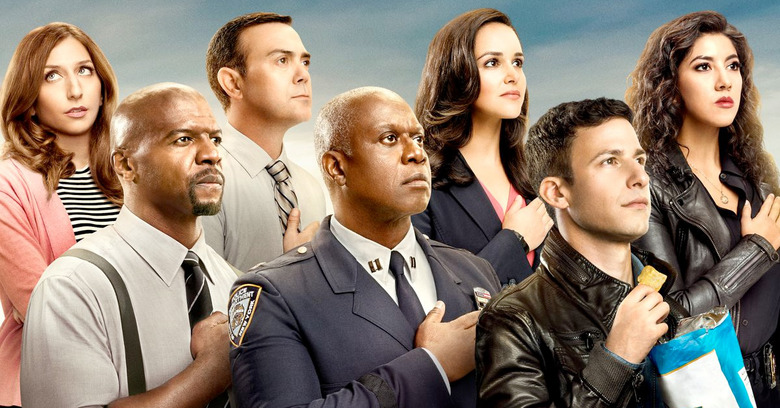 Sometimes, you attend a San Diego Comic-Con panel that reminds you that all of the hassle, all of the line-waiting, all of the sunburns from the sneaky southern California sun is worth it. This year, that panel was dedicated to Brooklyn Nine-Nine, the hilarious, sweet, quietly important cop comedy that was briefly cancelled by Fox earlier this year before being rescued by NBC.
The air in the room was electric and every seat was filled. The atmosphere could best be compared to a rock concert and my ears were literally ringing by the time the cast and crew took their seats. To be surrounded by thousands of people who feel the same passion you do (that Brooklyn Nine-Nine is one of the best shows on television and that everyone involved in its creation is a national treasure) is a powerful feeling.
Here's what you need to know about the panel.
The panel kicked off with a "dramatic" black and white video utilizing footage from the show's five seasons that was recut to suggest the characters were reacting to the show's cancellation. And then: a montage of the show's most celebratory moments as it was rescued.
The panel included co-creator and showrunner Dan Goor, writer and producer Luke Del Tredici, and stars Andy Samberg, Melissa Fumero, Terry Crews, Stephanie Beatriz, Joe Lo Truglio, Chelsea Peretti, Joel McKinnon Miller, and Dirk Blocker. It was an infectious, giddy panel, where everyone on it seemed downright thrilled to be there.
The Cancellation
The panel conversation kicked off with a discussion of the show's 24-hour cancellation. Samberg explained that everyone was a bit pessimistic and that there was "quite a bit of doubt" that they'd be rescued. The cast retreated to their WhatsApp chain (because of course the cast of Brooklyn Nine-Nine has a WhatsApp chain) to share their despair. "It was immense sadness," Crews explained.
"And then the internet exploded," Fumero noted, referring to the social media outcry that followed the show's cancellation. "It was so validating in that moment." Regular folks and celebrities alike ("Manafort's a big B99-er," Samberg deadpanned) voiced their support and conversations with NBC began almost immediately. Goor, who was the first to learn that they were cancelled, was the first to learn that they were rescued.
Back to Work
What is the status of Brooklyn Nine-Nine season 6? It's still got a long way to go, but the gears have begun turning. Goor confirmed that the writers room is already up and running and that the staff and crew are five weeks into pre-production. A handful of scripts are finished and numerous storylines are being worked out.
"Spoiler alert: I think the season is going to be really good," Goor joked.
Where Was Andre Braugher?
With almost the entire cast assembled, the one absent lead stuck out like a sore thumb. Where was Andre Braugher, who plays the stone-faced, gay police captain Raymond Holt? "He wanted everyone to know he could care less," Samberg quipped. After all, can you imagine Braugher at Comic-Con? Actually, that would be a pretty good plot for an episode of Brooklyn Nine-Nine...
That Season 5 Cliffhanger
While the bulk of the season 5 finale focused on the nuptials (or "toit nups") of Jake Peralta and Amy Santiago, the episode ended with something of a cliffhanger. Captain Holt learned whether or not he had secured the highly coveted police commissioner position...but his trademark poker face ensured that neither the audience or the characters knew what happened.
Even if the show had been definitively cancelled, Goor confirmed that there were no plans to tack on additional closure. "If we had been cancelled, I would have just been so sad," he said. "We weren't going to change that end." And then Goor joked, "But I think it's clear from Holt's expression exactly what happened."
Jake and Amy
So after five seasons of intense rivalry and television's sweetest relationship since Leslie Knope and Ben Wyatt, Jake and Amy tied the knot at the end of season five. But will marriage change this goofy slob and this uptight perfectionist? "I think the beauty of Jake and Amy is that they really are friends," Samberg noted, adding that they were already working on storylines about the early days of a marriage. In a total Santiago move, Fumero joked, "I'm excited to see them join their bank accounts."
But what about Charles Boyle, Jake's best bud and number one fan? "Boyle will be on the honeymoon," Joe Lo Truglio joked. "And yes, Boyle wants them to start creating kids ASAP: Boyle wants more Jake. Or Jakettes."
Rosa's Coming Out
One of the biggest storylines in season five involved Detective Rosa Santiago coming out as bisexual, but the writers felt the need to tread lightly. While the staff believe in inclusivity and wanted to explore Rosa being queer, Goor sought Stephanie Beatriz's permission and made sure a bisexual person had a hand in crafting this storyline. And Beatriz, herself bi, was able to fulfill both of those roles.
"It was a team effort," Beatriz said of the coming-out storyline. And while Brooklyn Nine-Nine takes place in a sometimes idealized bubble where people love and support each other beyond what we see in the real world, Beatriz insisted that the storyline "reflects the reality in [her] own life."
Goor also shared some fascinating trivia: Rosa saying on camera that she is a bisexual women reflects the first time this dialogue has been stated on a network show. While that's a little sad, it's also hopeful. As the many queer women in line for the audience Q&A made clear, Rosa coming out meant the world to the fans, who saw their own struggle within Rosa's. There were lots of tears during that Q&A, folks.
Gina Rodriguez
One memorable joke from the season 5 finale involved Rosa's sudden crush on a rideshare driver played by Jane the Virgin star Gina Rodriguez. Will this crush blossom into more in season 6? "We are hopeful that will happen," Goor said. However, Rodriguez is in demand (she had to film all of her previous scenes in one day, while on vacation), so it's all going to be a matter of timing.
Terry and Terry
In a panel full of big-hearted people wearing their emotions on their sleeves, Terry Crews stood above the rest..and not just because's he's as freakin' huge in real life as he is on camera. "Terry Jeffords is me," Crews said of his doting, caring police sergeant. Like his television counterpart, he views his fellow cast members as family and wants to see them win. "It's real...it's super special," he added. Crews added that he has never played another character that so closely reflected the kind of person he is off-camera.
But Terry Crews isn't the only person reflected in Terry Jeffords. Luke Del Tredici noted that many of the storylines involving Terry taking care of his young twin daughters were directly borrowed from his own experiences as a new father.
The Evolution of Gina Linetti
Will we see a softer side of Gina Linetti, the deranged, dangerously capable civilian administrator played by Chelsea Peretti? Perretti wouldn't say, but made it clear that Gina isn't losing her edge because "She's a gentle spirit, but she has layers like all of us do." Honestly, it was the most Gina-esque answer imaginable.
Hitchcock and Scully
Dirk Blocker and Joel McKinnon Miller's Hitchcock and Scully began as minor background characters, but they have grown in importance over the years, frequently joining the action with the core cast. Still, the panel revealed that the precinct's slovenly duo are always up to something that they often play out entire storylines silently in the background, far removed from the main storyline.
And while Hitchcock and Scully themselves are embarrassing dinosaurs, the cast had nothing but love for the actors who play them. Beatriz in particular called Blocker and Miller awesome and feminists, a far cry from the shallow people they play in the show. Blocker himself noted what it was like to work on such a progressive show. When him and Miller were younger men, "The only people being hired were white guys." But now that they're approaching the end of their careers ("Maybe for you!" Miller joked), "It's really kind of a cool thing to see the business evolve, even though it's got a long way to go."
Leaving Fox
The cast and crew were diplomatic about Fox, describing a fulfilling relationship with the network and no ill will. When one fan asked about how a show as forward-thinking as Brooklyn Nine-Nine survived on Fox, Samberg was quick to point out that Fox channel is a completely different division than Fox News. But Chelsea Peretti put on her best anarchic Gina hat and (jokingly) declared "Fox News is so good. That's the hardest part about leaving."
I'll remember this moment forever ❤️❤️ https://t.co/bCDQOHTPFu

— Melissa Fumero (@melissafumero) July 20, 2018
Representation
Brooklyn Nine-Nine is a goofy comedy, but it is also a show about a diverse group of people who deeply care about each other, accept their differences, and form a found family built on unbreakable bonds. This is the key to the show's passionate fanbase – it's not just a fun comedy, but comfort food for people who feel ostracized and alone. The audience Q&A quickly became overwhelmingly emotional – queer fans and Latina fans especially brought the panel (and the entire room) to tears with stories of what the show meant to them.
One fan brought a tough question to the panel: now that they've explored gender, race, and sexuality, will the series tackle mental illness? After all, Jake has serious abandonment issues and Amy clearly has some form of OCD or anxiety. The panel made it clear that they understand that fans see themselves in the show and that they take this very seriously. They just need to be careful and cautious and do things right.
"Those episodes take a lot longer because if you fuck it up, it's bad," Samberg said.
Season 6
When pushed for any details at all about season 6, Goor was tight-lipped. "People are going to be very excited about the first few episodes," he teased. Details beyond that were scarce, but he did note that they're working hard to bring Craig Robinson's Doug Judy back for his sixth appearance ("I don't want to promise anything. We're trying.") and that we may see some flashbacks to Hitchcok and Scully's early days as cops.
But most importantly, Goor said we will finally learn whether Kelly is Scully's wife or dog. Unless he was joking. It was hard to tell.
***
Fans were dismayed a few months back when Brooklyn Nine-Nine was cancelled by Fox. However, the resulting online outcry meant that the cancellation lasted only about 24 hours and the delightful, heartwarming season 5 finale was no longer going to be a series finale by default. After several networks and streaming services expressed interest, NBC rescued Brooklyn Nine-Nine for a sixth season.
NBC Entertainment Chairman Robert Greenblatt issued this statement when the show was saved:
Ever since we sold this show to Fox I've regretted letting it get away, and it's high time it came back to its rightful home. Mike Schur, Dan Goor, and Andy Samberg grew up on NBC and we're all thrilled that one of the smartest, funniest, and best cast comedies in a long time will take its place in our comedy line-up. I speak for everyone at NBC, here's to the Nine-Nine!
Brooklyn Nine-Nine will make its triumphant return on NBC sometime in the 2018-2019 television season. Nine-Nine!