New 'Venom' Images And Details: How Tom Hardy Developed Two Different Voices For The Antihero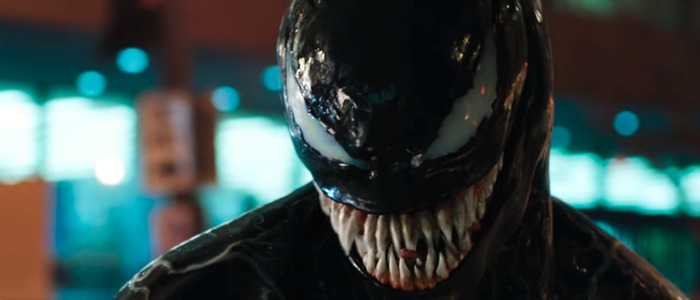 Tom Hardy is an Oscar-nominated actor who has already played one of the most famous Batman villains of all time. So why did he sign up to play a Spider-Man villain in a movie that doesn't even feature Spider-Man? That was the question on many people's lips when Hardy was first announced to star in Venom, the first film in Sony's Spider-Man-adjacent cinematic universe.
But while Hardy often prefers to let his work speak for itself (or at least, prefers to speak about it behind a mask), the Venom actor is finally revealing what drew him to this symbiotic antihero.
In an interview with Entertainment Weekly, Hardy previewed a few new Venom images and revealed details of the upcoming comic book movie.
Venom Images
In the film, Hardy plays Eddie Brock, a journalist who accidentally gets possessed by an alien symbiote known as Venom, resulting in a violent struggle for control of his body. "Usually a human gets imbued with powers or an alien comes from outer space and has to figure out how to live on our Earth," director Ruben Fleischer told EW. "But this is really about a relationship between two people who have to work together to create this hybrid symbiotic relationship."
That hybrid relationship is what drew Hardy to the role, as well as the fact that Venom "looks the coolest" among Marvel characters. "That sounds a bit shallow!" Hardy admitted. "But I appreciate that he has a kind of brazen swagger and a zero foxtrot attitude." So how did Hardy go about playing two very different characters battling it out for one body? He tells EW:
"It's a bit like Ren and Stimpy, you know? They have different sounds. I always saw Venom as sounding like a James Brown lounge lizard, and Eddie Brock is kind of..." — he switches to an aw-shucks American accent — "I don't know, an everyday kind of guy. But he's inherited this massive ego, this beast."
Thanks Tom Hardy, now once I sit down to watch Venom in theaters, I won't be able to get the image of Ren and Stimpy out of my mind the entire time.
In all seriousness, Hardy is drawn to the character because of the inherent tragedy in having to fight for ownership of his own body. "There's a tragic clown element, which I find funny and is harmonious with some of the work that I like to do," the British actor says. "There's something funny about the circumstances of having a gift but it's a tragic gift. It's a superpower you don't really want, but at the same time, you love it. It makes you feel special. He's a reluctant hero and an anti-hero."
Venom opens in theaters on October 5, 2018.
One of Marvel's most enigmatic, complex and badass characters comes to the big screen, starring Academy Award® nominated actor Tom Hardy as the lethal protector Venom.