Trailer Round-Up: 'The Grinch', 'A Crooked Somebody', 'Along Came The Devil', 'Ordeal By Innocence', And 'Hollyweed'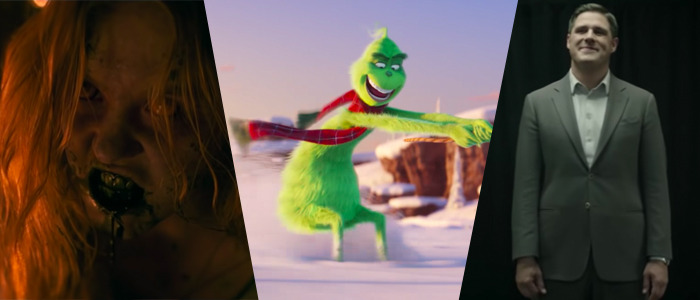 In today's trailer round-up, we take a look at an international trailer for the upcoming animated remake of The Grinch starring Benedict Cumberbatch, a psychological thriller called A Crooked Somebody, a supernatural horror movie called Along Came the Devil, a Kevin Smith TV series called Hollyweed, and Ordeal By Innocence, a new Agatha Christie adaptation coming to Amazon Prime. Peruse them all at your leisure below.
The Grinch International Trailer
Here's an international trailer for Illumination Entertainment's The Grinch, which looks to build out the classic Dr. Seuss story with...a yak blowing whipped cream through its nose. Classic. I'm going out on a limb and guessing that the Grinch farts at least 5 times in this movie. Illumination loves fart jokes.
The Grinch tells the story of a cynical grump who goes on a mission to steal Christmas, only to have his heart changed by a young girl's generous holiday spirit. Funny, heartwarming and visually stunning, it's a universal story about the spirit of Christmas and the indomitable power of optimism.
The Grinch hits theaters on November 9, 2018.
A Crooked Somebody Trailer
What happens when a fake psychic gets kidnapped by a deranged lunatic who believes those psychic powers are real? That's the basic gist of A Crooked Somebody, a new thriller that stars Mad Men's Rich Sommer and Westworld's Clifton Collins Jr. This looks like a low budget affair, but it could be a perfect late night programming option on a sweaty fall night with a drink in your hand.
Michael Vaughn's minister father always told him: Better to be an honest nobody than a crooked somebody. But Michael (Rich Sommer) doesn't see the harm in giving people the closure they need with the dead and travels town-to-town professing his abilities as a spirit medium. One night, Michael is kidnapped. With a knife to his throat, Michael suddenly sees the opportunity of a lifetime in his psychologically unstable captor's desperation to make contact with the other side. Intent on saving his floundering career, Michael sets out to become a celebrity TV psychic by solving the mystery of a high-profile crime in the national spotlight.
This one arrives in theaters on October 5, 2018, but comes to DirecTV before that on September 6, 2018.
Along Came The Devil Trailer
If you've seen the second season of Hulu's The Handmaid's Tale, you'll recognize the star of Along Came the Devil as Sydney Sweeney, who plays Nick's teenaged wife in the second season of the acclaimed drama. She was a little creepy in that show, but now she's in full-on exorcism mode in this eerie supernatural thriller.
A troubled teen Ashley is sent to live with her estranged Aunt Tanya. While in her old hometown she has visions of her deceased mom, driving her to try to contact the spirit world putting her soul into grave danger.
Along Came The Devil comes to On Demand and Digital HD on August 10, 2018.
Ordeal By Innocence Trailer
It's tough to screw up an Agatha Christie adaptation, and Ordeal By Innocence has no intention of trying. This one has a killer cast, including Bill Nighy, Matthew Goode, Luke Treadway (from Attack the Block), Alice Eve, Ella Purnell, and more.
In Ordeal By Innocence, based on the best-selling Agatha Christie novel, an aristocratic family begins to rebuild their life after their matriarch was brutally murdered, old wounds reopen when a man turns up to provide an alibi for the convicted killer: Jack. With Jack's name cleared, the family realizes the murderer is still out there and may be one of them.
This one hits Amazon Prime on August 10, 2018.
Wanna see what CLERKS in a weed store looks like? Watch me try to act with words coming out of my mouth in the pilot of #Hollyweed! If you like it, help me & @RivitTV green light a whole season by pre-buying a few episodes! To see the first one FREE, go to https://t.co/NvouiTs2uo pic.twitter.com/ggl1fM8j1M

— KevinSmith (@ThatKevinSmith) July 12, 2018
And finally, here's the trailer for Hollyweed, a new TV series from Kevin Smith and RivitTV, a platform that lets viewers green light its shows by financially supporting them directly. No word yet on when a final decision about that will be made, but you can watch the first episode free at the link in Smith's tweet.