Keri Russell May Be Joining Guillermo Del Toro-Produced Thriller 'Antlers'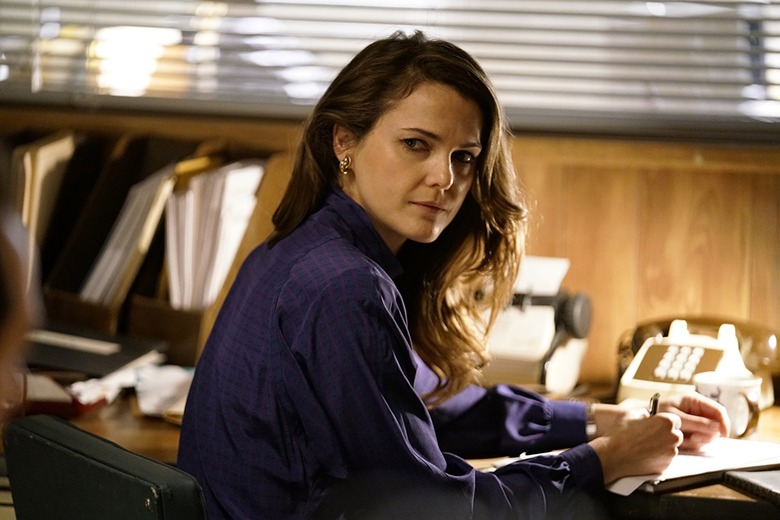 Keri Russell is about to a very busy former spy. Now that The Americans has wrapped its acclaimed six-season run, Russell finds herself in high demand, lining up projects to space and beyond. Hot off the heels of her recruitment to Lucasfilm's Star Wars: Episode 9, Russell is reportedly in talks to join the Antlers cast, a supernatural horror film produced by Guillermo del Toro.
Russell is in negotiations with Fox Searchlight to team up with del Toro for Antlers, a supernatural horror thriller that will be produced by The Shape of Water director and to be helmed by Scott Cooper (Crazy Heart, Black Mass), according to The Hollywood Reporter.
Russell is circling the role of "a teacher who takes an interest in a mysterious and withdrawn student. Only too late does she discover that the boy is harboring a deadly secret that is key to their town's survival," THR writes. From the sounds of the logline, it seems like Russell is set to play the lead in the horror thriller.
Written by Nick Antosca and Henry Chaisson, Antlers will be produced by del Toro alongside David Goyer and Miles Dale, who produced del Toro's Oscar-winning The Shape of Water. Fox Searchlight is reportedly eyeing a fall production start in Vancouver, which gives Russell plenty of time to shoot her Star Wars appearance this summer.
Although the multitalented Russell has a colorful resume that spans from romance, to action, to family films, horror is a genre that she has not yet tackled. While many young actresses have had their breakout roles in horror, Russell is kind of taking the opposite path — taking on a horror role later in her career. But with Hollywood in the midst of a new wave of high-concept horror, and the impressive pedigree that Antlers boasts behind the scenes, this would be an exciting next project for Russell to take on.