'Castle Rock' Is A Stephen King Fan's Dream Come True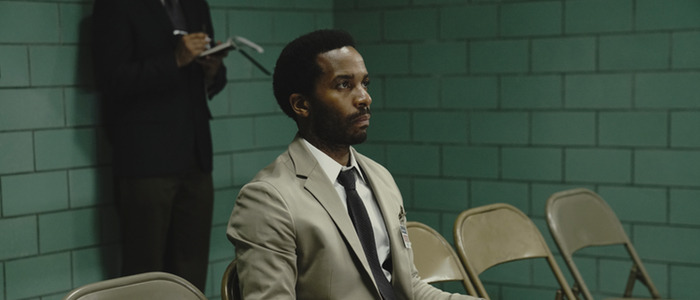 Welcome to Stephen King country. Castle Rock draws inspiration from the work of the Master of Horror, and crafts an engrossing, frequently scary TV series full of mystery and darkness. Here is a show for King fans, and fans of horror in general.
"Take any house in this town...every inch is stained with someone's sin," says Dale Lacy, the warden of Shawshank Prison. "People say it wasn't me – it was this place. And the thing is...they're right."
That town, that place, is Castle Rock, Maine – a fictional town conjured up by master of horror Stephen King. King has set several novels and short stories in this cursed town – most notably Cujo, The Dead Zone and Needful Things. Now Castle Rock takes center stage in a new Hulu series from creators Sam Shaw and Dustin Thomason, and producer J.J. Abrams. It is a Stephen King fan's dream come true – or perhaps nightmare come true is more accurate. And yet, even if you aren't familiar with King's work, you will still find wonders and horrors aplenty within the episodes that make up the series.
Castle Rock isn't adapted from any specific King story, but rather takes the world King created and crafts its own unique, haunting story. The results are remarkable, although the series does have a tendency to stray into the Abrams "Mystery Box" territory far more often than King's books ever did. But if you've somehow never read a King novel or short story, here is what you need to know: Castle Rock is a town located somewhere in Maine – likely near Portland. It is a cursed, doomed town. Like Derry, Maine in King's It, it is a town rotting from the inside. A town that seemingly can't escape its tragic fate.
Or can it? Much of Castle Rock seems to be centered around the battle for the town's soul. The attempt to locate and isolate the evil that plagues the town. To lock that evil away, and hope for the best. But evil never stays buried in Stephen King country. It only lies dormant, until something, or someone, uncovers it. And then all hell breaks loose. Looming over the town like a dark idol is Shawshank Prison, the location at the heart of The Shawshank Redemption. Like Castle Rock itself, time has not been kind to Shawshank. The prison is crumbling, and there's something – or more specifically, someone, buried deep inside.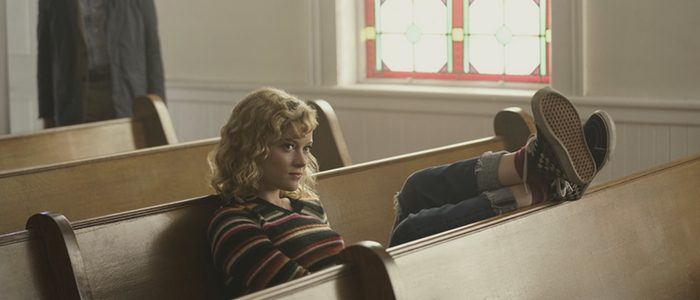 That would be The Kid (Bill Skarsgård), a mysterious prisoner who doesn't actually belong with the general prison population. The Kid is located in an abandoned, secluded section of the prison – a ward that has been closed off since a fire in the 1980s. He's not in a cell, but a cage. A cage hidden away in a water tank. And all evidence seems to indicate that the former warden of Shawshank, Dale Lacy (Terry O'Quinn), locked him away there.
I say "former", because in the first episode of Castle Rock, Warden Lacy exits the scene rather dramatically. He loops a noose around his neck, ties the other end of the noose to a tree, and then gets in his car and floors it off a cliff into Castle Lack. The drive cleanly decapatates the warden, and his death kicks off a series of events that send Castle Rock into a tailspin.
When Lacy's mystery prisoner The Kid is discovered, he only says one thing – "Henry Deaver." It's a name with a history in Castle Rock. Deaver was a local who has since fled to Texas. As far as the town is concerned, Deaver pulled a prank many years ago – a prank that lead to Deaver murdering his adoptive father, a pastor. But we know from the start that can't be the case. We know this because we see a young Alan Pangborn, the sheriff of Castle Rock, out in the frosty, frozen Maine woods looking for the missing Henry back in 1991. Henry seemingly appears from nowhere in the middle of a frozen lake. The same lake that Lacy drives his car into many years later.
The adult Henry is played by André Holland. He's now an attorney that specializes in death row clients – and it's clear his career isn't going well. "All my clients are dead," he says at one point. But the discovery of The Kid draws Henry back to Castle Rock, and opens up old wounds. Henry's adoptive mother Ruth (Sissy Spacek) is suffering from Alzheimer's, and when Henry returns home, she doesn't even recognize him ("I adopted a black son!" she cheerfully proclaims, not realizing that adopted son is standing right in front of her). Ruth is living with Pangborn (Scott Glenn), the former town sheriff who has plenty of his own secrets. The relationship between Henry and Pangborn is icy, to say the least.
Once back in town, Henry starts trying to uncover just what the hell is going on. It's not easy. As far as the town is concerned, he's a murderer – the man responsible for the death of his father. At best, he's a curiosity. A local, Jackie Torrance (a name that will instantly catch the attention of fans of King's The Shining), played by Jane Levy, is clearly fascinated with Henry, grilling him for the nitty gritty details of his past. And realtor Molly Strand (Melanie Lynskey), doesn't seem thrilled Henry is back in town. Via flashbacks we learn Molly had a crush, or perhaps obsession, with Henry. She lived in the house across the street from his, and spent hours spying on him and doodling his name over and over again in her diary. Molly hopes to breathe new life into the dying town, but it won't be easy. To make matters worse, she's suffering from her own issues. Issues she tries to deal with by self-medicating via recreational drug use.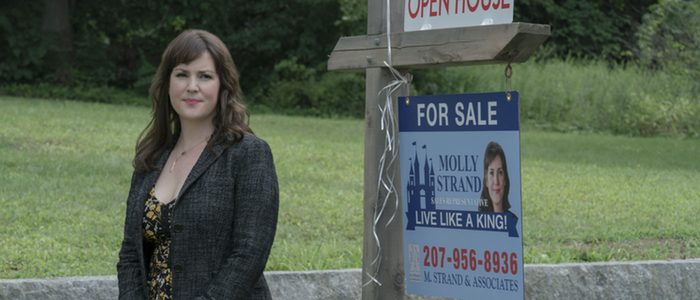 Castle Rock unfolds at a laid-back pace. Anyone hoping for a punchy, rapid-fire series might be disappointed. But those hoping to spend a few laid-back hours in Stephen King country will be enthralled. Think of each episode as a chapter in one of King's novels, each moment steadily ratcheting up the tension and terror. The thing that has always made King's books so memorable isn't their scare-factor, but rather their character development. Castle Rock understands that, and takes the time to engross us in the character's lives. Holland is wonderful as the tormented, troubled Henry Deaver. He's an outsider in more ways the one – everyone thinks he's a murderer, and he's seemingly the lone black face in a small white Maine town. Spacek, who has a history with King works, having starred in Carrie, is quite good as well, playing Henry's sundowning mother. Glenn is great as the grizzled, miserable Pangborn – someone who might know just what the hell is going on here, but won't spill the beans. And Lynskey, an actress who always impresses, is a wonderful addition as the befuddled Molly Strand.
But the true standout here is Skarsgård, playing the enigmatic Kid. Like Spacek, Skarsgård has a history with King adaptations – he played the murderous, monstrous clown Pennywise in It. But Skarsgård's Kid is somehow more frightening than his killer clown. The character is subdued and subtle, yet Skarsgård has a thousand-yard stare that cuts through the viewer, inducing chills. There's something very wrong with The Kid, and as Castle Rock unfolds, it's clear that he's not exactly what you would classify as "human."
Brimming with dread, and full of some genuinely terrifying moments – one scene, in which Lynskey's character has a vision of an ominous figure in her home is truly scary – Castle Rock will entice horror fans, and serve as a genuine treat for fans of King's work. References to King's work, including Cujo, Stand By Me, It, The Dead Zone, and more, run rampant.
King's work is in the middle of a resurgence. Since the box office success of It, more and more producers have wanted to re-adapt his work. Part of this is for financial gain – It was a hit, so it stands to reason more King adaptations will be as well. But perhaps there's more to it than that. Perhaps it's a sign of the times. The world has become much scarier, much more nightmarish in the last few years. King is an author who has been tapping into that fear for several decades. He is an author who understands how to highlight the darkness lurking beneath the world as we know it.
Castle Rock understand this too. "It's not luck," Lacy says of events in Castle Rock via narration. "It's a plan. And not God's, either." The say the devil is in the details. Whatever you think the devil is, it's lurking in the frames of Castle Rock. Here is a nightmare you can't wake up from.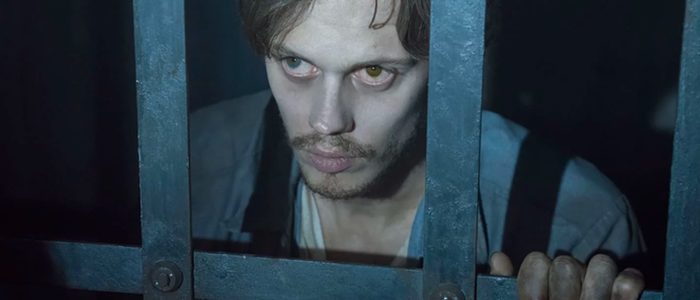 Castle Rock premieres on Hulu July 25, 2018. We will have spoiler reviews for the individual episodes after they debut.