Vera Farmiga Is A "DJ For The Monsters" In 'Godzilla 2'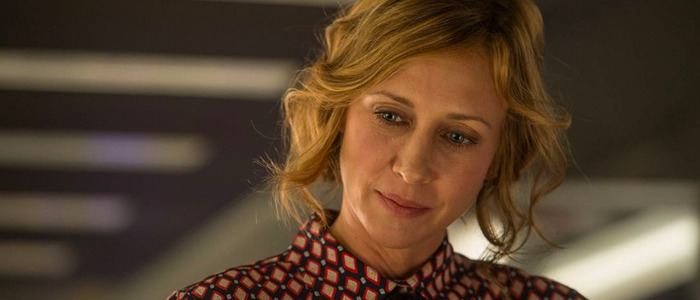 Vera Farmiga has offered some strange insight into her character in Godzilla 2, aka Godzilla: King of the Monsters. According to Farmiga, her character can both communicate with and possibly control the big, city-leveling monsters in the film. A movie where Vera Farmiga talks to big monsters? This is now a must-see.
I thought Gareth Edwards's 2014 take on Godzilla was visually stunning, but narratively weak. I know a Godzilla movie doesn't exactly need to have a brilliant plot, but I still had a hard time caring about the film's storyline. The Godzilla sequel, Godzilla: King of the Monsters, might have the solution to my problem. During a recent interview, Vera Farmiga – who appears in the film as Dr. Emma Russell – revealed some interesting details about her character. To hear Farmiga tell it, Dr. Russell can both communicate with and also possibly control the many monsters that appear in the film:
"She has figured out a way to communicate with the creatures and potentially control them using their bioacoustics on a sonar level. So she is like a DJ for the monsters."
"DJ for the monsters?" Alright, I'm in. I don't need to know anything else about this movie. Sign me up. In fact, they should just retitle this movie Godzilla: DJ for the Monsters.
Farmiga's character is a paleobiologist, and Stranger Things breakout Millie Bobby Brown plays her daughter. Kyle Chandler plays Farmiga's husband. I will say that the concept of a human controlling a Kaiju-sized monster isn't exactly new. The same idea was used in the dark comedy Colossal, in which Anne Hathaway plays an alcoholic who discovers she has complete control over a giant monster that suddenly materializes in South Korea. I'm sure King of the Monsters' take on this idea will be much different, though.
It's not clear from Farmiga's interview if her character is using her monster-talkin' powers for good or evil. I think it would be far more interesting if Farmiga was playing a villain, manipulating Godzilla and friends for her own nefarious needs. But I have a feeling that won't be the case.
King of the Monsters comes from director Michael Dougherty, the filmmaker behind Trick 'r Treat and Krampus. It's another entry in Legendary's MonsterVerse, which includes the 2014 Godzilla and the 2017 Kong: Skull Island. King o f the Monsters will then give way to Godzilla vs. Kong, due out in 2020.
In addition to Farmiga, Brown and Chandler, King of the Monsters also stars Ken Watanabe, Sally Hawkins, Bradley Whitford, Thomas Middleditch, Charles Dance, O'Shea Jackson Jr., Aisha Hinds, Zhang Ziyi and Anthony Ramos. The movie roars into theaters on May 31, 2019.
The new story follows the heroic efforts of the crypto-zoological agency Monarch as its members face off against a battery of god-sized monsters, including the mighty Godzilla, who collides with Mothra, Rodan, and his ultimate nemesis, the three-headed King Ghidorah. When these ancient super-species – thought to be mere myths – rise again, they all vie for supremacy, leaving humanity's very existence hanging in the balance.