'Sierra Burgess Is A Loser' Trailer: 'Stranger Things' Star Shannon Purser Trades Horror For High School Romance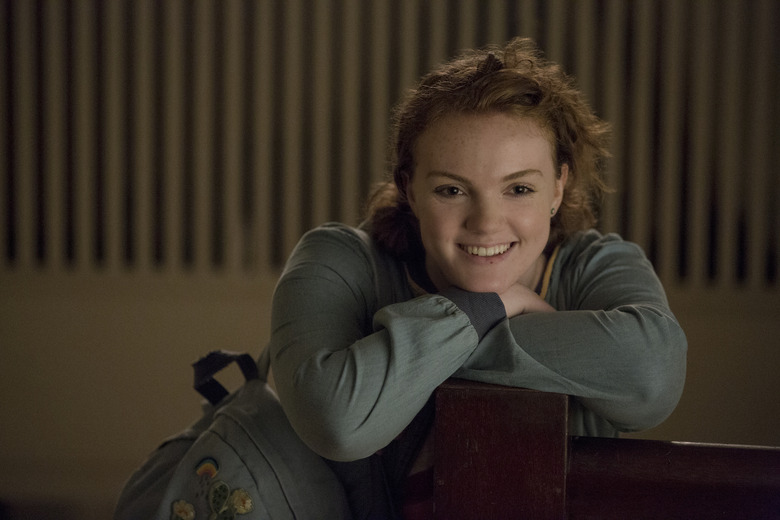 Looks like Barb finally got her justice.
After stealing the show in Stranger Things season 1 and becoming a bonafide meme soon after, Shannon Purser is finally stepping into a lead role in Netflix's latest romantic-comedy film, Sierra Burgess is a Loser. And like the rest of the streaming giant's pleasantly surprising slate of hip teen and young adult rom-coms, this movie looks charming as hell.
Sierra Burgess is a Loser Trailer
Shannon Purser stars as the titular Sierra Burgess, an insecure and intelligent teen whose body type precludes her from being one of the popular girls. But one day, a text from a wrong number kicks off the best romance of her life — except that the hot guy on the other end thinks she's someone else. It's a classic case of mistaken identity that will surely lead to all kinds of hijinks, but the end of the Sierra Burgess is a Loser trailer hints at something a little more heartening than a typical "smart girl catfishes the popular guy while taking down the bullying popular girl."
Purser may have gained fame and an Emmy nomination as a result of a meme, but she seems positively radiant in the lead role in Sierra Burgess, which is a modern-day retelling of the French play Cyrano de Bergerac. Netflix has been making leaps and bounds in resurrecting the dying rom-com genre with its charming films like The Kissing Booth and Set It Up, which both featured more conventionally attractive leads. Purser breaks that trend and is an exciting next step as Netflix rom-coms continue to diversify with the upcoming To All the Boys I've Loved Before.
Directed by Ian Samuels from a screenplay by Lindsey Beer, Sierra Burgess is a Loser also stars RJ Cyler, Noah Centineo, Chrissy Metz and Lea Thompson.
Here is the official synopsis for Sierra Burgess is a Loser:
SIERRA BURGESS IS A LOSER is a modern rom-com retelling of the Cyrano de Bergerac story set in high school.  The story centers on Sierra (Shannon Purser), an intelligent teen who does not fall into the shallow definition of high school pretty but, in a case of mistaken identity that results in unexpected romance, must team with the popular girl (Kristine Froseth) in order to win her crush.
Sierra Burgess is a Loser hits Netflix on September 7, 2018.