'Blockers' Star Geraldine Viswanathan Joins Hugh Jackman's 'Bad Education'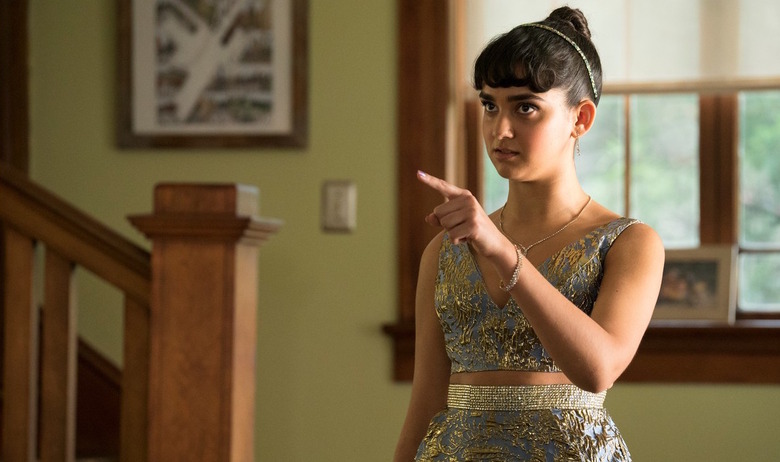 Blockers breakout star Geraldine Viswanathan is graduating to even bigger and better projects. The rising star has joined the Bad Education cast, where she will star opposite Hugh Jackman.Variety reports that Viswanathan will co-star with Hugh Jackman in his upcoming high school comedy/drama Bad Education, a project that is being billed as a descendent to the Reese Witherspoon's scathingly funny dark comedy Election.
Set to be helmed by Thoroughbreds director Cory Finley and written by I Think We're Alone Now scribe Mike Makowsky, Bad Education is reportedly based off of Makowsky's own experiences in high school and has insiders buzzing over the juicy showcase it offers for its young female lead. And after Viswanathan stole the show as a foul-mouthed teen girl who makes a pact to lose her virginity in Blockers — which went on to become a comedy hit this year — it seems like Bad Education could help launch her into Hollywood stardom.
Details remain scarce on Bad Education, which is also set to star Allison Janney. It will be produced by La La Land producer Fred Berger and Brian Kavanaugh-Jones of Automatik alongside Eddie Vaisman, Julia Lebedev, and Oren Moverman of Sight Unseen. Makowsky is also producing Bad Education, which begins production in October.
But watch this space for Viswanathan's promising career. The actress will next appear in the Overbrook film Hala as well as the Ben-Stiller produced Netflix comedy The Package. Viswanathan is working hard in TV as well, starring in the upcoming TBS series Miracle Workers.