'Insatiable' Teaser: Debby Ryan's Revenge Comedy Netflix Series Has A Premiere Date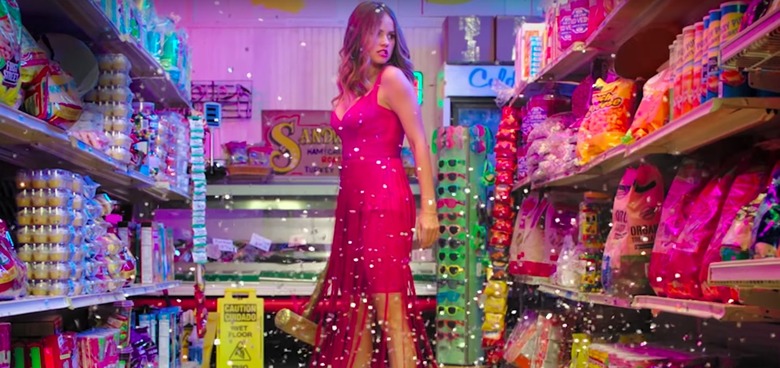 Debby Ryan is shedding her Disney image to become Insatiable. The former Jessie star heads to Netflix for the twisted revenge comedy from the producer of Dexter. Created by Dexter co-executive producer Lauren Gussis, Insatiable is a beauty pageant revenge series that promises a "coming of rage story" that will have you craving more.
Insatiable Teaser: Netflix Premiere Date
"I've heard stories of girls who grew up happy and well-adjusted. This is not that story," Ryan says as she swaggers down a supermarket aisle clad in a hot pink dress. She pulls out a glittery mallet, and begins smashing all the sweets and snacks on the shelves around her as glittery confetti rains down. She angrily bites a cupcake stolen from a poor supermarket employee before smearing it against the screen, which fades to black with the announcement that the series will premiere on Netflix on August 10.
Point taken. It's an intriguing new teaser for Insatiable, which follows a formerly overweight bullied teenager who loses weight and enters a beauty pageant to take revenge on her enemies. The pilot, written by Gussis and directed by The Craft director Andrew Fleming, was picked up by Netflix last year after The CW passed on a series order.
Insatiable also stars Christopher Gorham as Bob Barnard, Erinn Westbrook as Magnolia Barnard, Michael Provost as Brick Armstrong, Kimmy Shields as Nonnie, Irene Choi as Dixie Sinclair, and Sarah Colonna as Angie.
Here is the official synopsis for Insatiable:
"For years, Patty (Ryan) has been bullied, ignored, and underestimated by those around her because of her weight. But now that she finds herself suddenly thin, Patty is out for payback against anyone who has ever made her feel bad about herself. Bob Armstrong (Dallas Roberts), a disgraced attorney whose true passion is coaching beauty pageant contestant, is the only one who sees Patty's potential, and takes her under his wing — first as a legal client, and then as a pageant contestant whom he coaches toward becoming the top pageant queen in the country. But Bob and his wife Coralee (Alyssa Milano) have no idea how deep Patty's rage goes, or how far she will go to exact revenge on anyone who has ever wronged her. Bullies beware: payback's a bitch, revenge is sweet, and if you cross Patty, you'll be her next treat."
Insatiable premieres on Netflix on August 10, 2018.