'Life Itself' Trailer: Oscar Isaac Charms The Hell Out Of Olivia Wilde In A Drama From 'This Is Us' Creator Dan Fogelman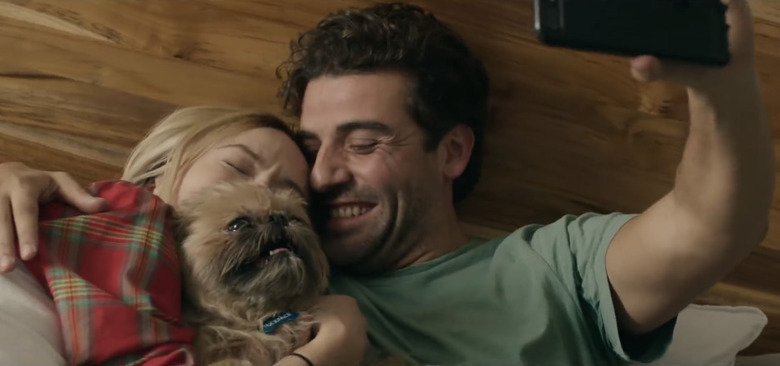 When all the craziness of blockbuster summer has come to an end, it'll be time to catch our breath with some quieter movies in fall. One of those movies is coming from This Is Us creator Dan Fogelman, and it looks like quite the charming romance that will make for a good date movie when the leaves start to turn.
Life Itself follows Oscar Isaac and Olivia Wilde as a couple who started dating in college and go on to get married, start a family and live through all the trials and tribulations of life and everything it has to offer. A new trailer has just arrived, and the movie certainly has flares of Fogelman's previous big screen effort Crazy, Stupid, Love, but it seems to have a little more drama instead of comedy this time around.
Watch the Life Itself Trailer
Honestly, this just looks delightful, and it shows us much more than the initial teaser trailer. The official synopsis for the movie calls it a "multigenerational saga," so clearly the role of Oscar Isaac's parents (played by Mandy Patinkin and Jean Smart) will be integral to the family dynamic. The trailer also seems to indicate that Olivia Cooke might be playing the teenage daughter of Oscar Isaac and Olivia Wilde, but that's just speculation on our part.
Like any good romance mixed with family drama, there's bound to be tragedy, and I'm betting that one of our chief characters isn't quite going to make it all the way. After all, there don't appear to be any shots of Olivia Wilde in scenes where Oscar Isaac looks more middle aged. But that's something we'll have to wait to find our more about when the movie arrives this fall.
There's also an interesting mix of a focus on the romance between Oscar Isaac and Olivia Wilde in New York City, but there's another part of this story that unfolds with a couple in Carmona, Spain, who appears to end up in New York. Could it be the story of Oscar Isaac's parents is weaved throughout the movie? It's certainly a possibility. And it would make sense if Antonio Banderas played his father.
The rest of the cast includes Annette Bening, Sergio Peris- Mencheta, Laia Costa and Alex Monner, all under the direction of Dan Fogelman, working from his own script.
As a young New York couple goes from college romance to marriage and the birth of their first child, the unexpected twists of their journey create reverberations that echo over continents and through lifetimes in Life Itself. Director and writer Dan Fogelman ("This Is Us") examines the perils and rewards of everyday life in a multigenerational saga that celebrates the human condition and all of its complications with humor, poignancy and love.
Life Itself arrives in theaters this fall on September 21, 2018.