Small-Screen Stream: 'Sharp Objects' And Other Complex Women On TV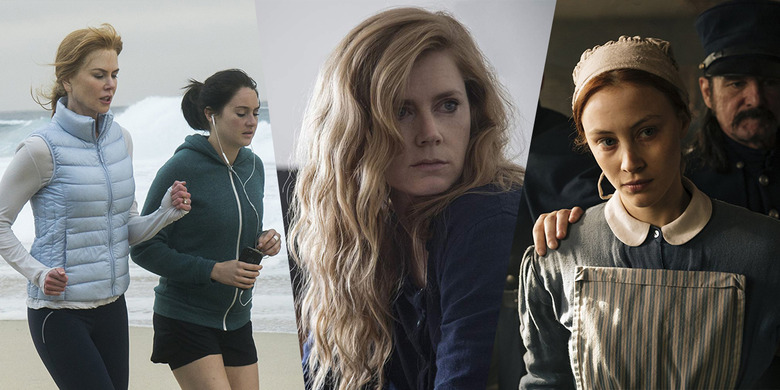 (Welcome to Small-Screen Stream, a feature where we share the best television shows streaming and where you can watch them.)
The premiere of Sharp Objects inspired me to do something a little different with this week's streaming column. Watching Amy Adams in HBO's incredible new miniseries made me yearn for other complex, layered, broken female characters, ones who don't fit into the neat little boxes where women in media so often reside. Ones who drink when they shouldn't or speak out when it feels uncalled for or let their makeup smear, their hair tousle. Silly little things, maybe, but things we so rarely see in a sea of perfectly manicured cable characters.
So I set out to compile a list of streaming shows filled with a-typical TV women. They're not all complex in the same way – and some are still pretty manicured – but instead offer some variety. These are women who don't behave the way society might want them to, and that's exactly why they're so endlessly watchable.
I also wanted to emphasize shows with largely female creative forces behind-the-scenes (as much as I could). Because female creators, directors, and writers lend their shows a unique quality, one of truth and experience. We need more of them, but these are the women who have already started paving the way.
Sharp Objects (miniseries)
Where To Watch: HBO Now
Created By: Marti Noxon
Starring: Amy Adams, Patricia Clarkson, Chris Messina
Amy Adams is doing the Lord's work in this adaptation of Gillian Flynn's dark and demented bestseller, about a journalist named Camille who returns to her small hometown to cover the murder of two young girls. Once there, she reconnects with her strange mother, Adora (Patricia Clarkson) and wild-child half-sister, Amma (Eliza Scanlen), and secrets from her past start to unfurl. The first episode premiered Sunday, so that's all there is to catch up on, but mark this one down to follow for the rest of summer. The story is full of some truly riveting twists, and Adams and Clarkson are giving career-best work as two very different but similarly troubled women. Director Jean-Marc Vallée brings the same unique visual style to Sharp Objects that he did to Big Little Lies, which he also directed in full.
Big Little Lies, Season 1
Where To Watch: HBO Now
Created By: David E. Kelley, Liane Moriarty
Starring: Reese Witherspoon, Nicole Kidman, Shailene Woodley, Zoë Kravitz, Laura Dern
Speaking of Big Little Lies, if you haven't caught this compelling murder mystery yet, there's no better time. It's a perfect summer watch, easy to breeze through, though not at all light-weight. The subject matter is intense as hell, and follows a handful of Monterey mothers embroiled in a the death of an unknown person (whose identity isn't revealed until the finale). Reese Witherspoon has never been better as the poison-lipped, type-A Madeline Martha Mackenzie, and Nicole Kidman gives what might be her best performance yet as abused wife Celeste Wright. Catch up now before the show returns for a second season next year, with Meryl Streep joining the cast.
The Sinner, Season 1
Where To Watch: Netflix
Created By: Derek Simonds
Starring: Jessica Biel, Christopher Abbott, Dohn Norwood, Bill Pullman
I'll be honest: I wasn't sure if Jessica Biel had it in her. I've never had much exposure to the actress, save her work on 7th Heaven, and she's been best-known as Mrs. Justin Timberlake for a while now. I feel guilty for doubting her, because she's excellent in this taut, 8-episode story, as a wife and mother who commits a seemingly random act of violence on a public beach. The mystery at the center of The Sinner unfolds slowly, but the character work is fantastic, and it never feels like a slog. Biel plays the part with a chilly distance that works wonders for the bizarre web the show spins. The second season premieres on USA Networks on August 1st, telling a brand-new story, and starring Carrie Coon – miniseries queen.
Orphan Black, Seasons 1-5
Where To Watch: Amazon Prime
Created By: Graeme Manson, John Fawcett
Starring: Tatiana Maslany, Jordan Garvais, Évelyne Brochu, Maria Doyle Kennedy
For a while, Orphan Black was a highly buzzed-about show, one that won its lead actress – Tatiana Maslany, an almost total unknown before this – an Emmy and that acquired a fiercely loyal fanbase known as the "Clone Club." The show wrapped last year, but is finally all available on Amazon Prime, begging to be binged. Maslany plays a set of clones at war with the evil genetics company who created them. It raises plenty of questions – about body autonomy and the ethics of cloning – but honestly, Maslany is 100% the reason to watch. She has so much fun playing each clone, and personalizing them to perfection. It's easy to slip up and forget that it's the same actress behind all of these distinct personalities. That's the gift of a one-of-a-kind performer, and it's a delight to watch Maslany work her magic over all five seasons.
Harlots, Season 1
Where To Watch: Hulu
Created By: Alison Newman, Moira Buffini
Starring: Samantha Morton, Lesley Manville, Jessica Brown Findlay
Harlots is so good and it makes me so sad how hard it is to find someone who's seen it. The show is about sex work in 18th century London, when employment for women was hard to come by. Samantha Morton stars as Margaret Wells, a brothel-owning madam who comes under fire as religious crusaders rage against the sex work industry. Morton is fabulous in the lead role, but supported by other strong performers, like Lesley Manville as a competing brothel owner, and Jessica Brown Findlay as Wells' prostitute daughter. The show is sexy, but also politically ripe. There's a lot going on under those layers of fabric.
I Love Dick, Season 1
Where To Watch: Amazon Prime
Created By: Sarah Gubbins, Jill Soloway
Starring: Kathryn Hahn, Kevin Bacon, Griffin Dunne
It's a real shame Amazon didn't stick it out with I Love Dick, because it's an incredible show, with a uniquely feminine prospective that is sorely missing from so much modern TV. Sarah Gubbins and Jill Soloway imbue the show with a sexuality that is exciting and weird, and the show is exciting and weird because of it. Kathryn Hahn plays Chris, a New York filmmaker who companies her husband (Griffin Dunne) on a retreat to Texas. Once there, she becomes infatuated with her husband's fellowship sponsor, Dick (Kevin Bacon), and goes pretty off-the-rails in lust, writing Dick letters and re-examining her own marriage in funny, provocative ways. Every episode but one was directed by a woman, and every episode written by women, and it shows, in the way characters talk, have sex, and see the world. We need more like it.
Scream Queens, Seasons 1-2
Where To Watch: Hulu
Created By: Ryan Murphy, Brad Falchuk, Ian Brennan
Starring: Emma Roberts, Lea Michele, Billie Lourd, Abigail Breslin, Skyler Samuels
I'm a pretty big Ryan Murphy fan, which can be an alienating thing to admit, but whatever. The man has created a slew of modern camp classics, and I admire his totally batshit instincts. Scream Queens never got the full attention it deserved, and was canceled before it could truly shine, which is a shame. It's the closest thing we have to the seminal, sadistic teen movies of the 80s and 90s. (Think: Heathers, Jawbreaker, The Craft.) The show follows the members of Kappa Kappa Tau – a heinous sorority whose head members all go by the name "Chanel" – as its plagued by a serial killer known as the Red Devil. Emma Roberts is perfect as the barbing Chanel No. 1, the lead mean girl, and the cast is populated with fun additions, like Jamie Lee Curtis, John Stamos, Kirstie Alley, and Ariana Grande. It was a little too weird for mainstream audiences, which makes it perfect for the cult classic status it desperately deserves.
Olive Kitteridge (miniseries)
Where To Watch: HBO Now
Created By: Elizabeth Strout, Jane Anderson
Starring: Frances McDormand, Richard Jenkins, John Gallagher Jr., Zoe Kazan
The prestige drama miniseries is an oft-overlooked sub-genre, save for members of TV voting academies, so it can be easy to miss out on some truly great work. That's how I felt discovering Olive Kitteridge, which aired on HBO in 2014 and which I only knew about because it won a bunch of Emmys. I'm glad I gave it a chance, because it's one of my favorite things of the last several years, across any medium. Frances McDormand is fantastic as always, playing her trademark dry-humored, sharp-talking female lead. But Olive is somehow even colder than any woman she's handled before, and she navigates her psyche with an icepick precision. You both detest her, and see exactly why her doting husband (played by an equally stellar Richard Jenkins) remains so devoted to her. The cinematography is beautiful, and the series captures slice-of-life Maine perfectly.
Catastrophe, Seasons 1-3
Where To Watch: Amazon Prime
Created By: Sharon Horgan, Rob Delaney
Starring: Sharon Horgan, Rob Delaney
Bingeing Catastrophe late last year was one of the true pleasures of my adult life; it's so sweet and funny, but never trite, and always very, sometimes painfully, real. That's thanks in large part to the chemistry between Horgan and Delaney, who co-created the show together and whose comedy styles are fully complimentary. Horgan especially plays a character that feels like something new, a woman torn between an unexpected pregnancy and new relationship, and the fun life she's about to leave behind. Come for the fun British-American banter, stay for Carrie Fisher, who turns up as Delaney's erratic mother in one of her more true-to-life performances.
Alias Grace (miniseries)
Where To Watch: Netflix
Created By: Margaret Atwood, Sarah Polley
Starring: Sarah Gadon, Edward Holcroft, Rebecca Liddiard, Zachary Levi
The Handmaid's Tale is getting all of the attention, but here's another brilliant Margaret Atwood adaptation that's ready to view. But be prepared: this one is about the same level of bleak as Handmaid, and partially based on a true story. It tells the story of Grace Marks (Sarah Gadon), who immigrated from Irish to Canada, but was soon accused of murder and thrown in a penitentiary. Grace recounts the story of her imprisonment, and the horrible things she's borne witness to as a woman in the system. The show was created and directed by women (including American Psycho's Mary Harron), which lends the darker stuff a whiff of knowing truth.
The Good Wife, Seasons 1-7
Where To Watch: Hulu
Created By: Michelle King, Robert King
Starring: Julianna Margulies, Archie Panjabi, Matt Czuchry, Josh Charles, Alan Cumming, Christine Baranski
It's never the wrong time to hooked on The Good Wife, which – for seven seasons – was one of the very-best shows on TV. Julianna Margulies is currently killing it on AMC's Dietland, but she'll always be Alicia Florrick to me. As the wife of a disgraced State's Attorney, Alicia fights her way from the bottom, juggling congenial family life with her burgeoning career and her husband's scandal. Alicia is a character for the ages, complex in so many ways, as we the people in her orbit; Archie Panjabi as Kalinda Sharma in particular, but also Josh Charles' Will Gardner and Christine Baranski's Diane Lockhart, who's now leading her own spinoff series, The Good Fight.