Sequel Bits: 'Halloween', 'The Crimes Of Grindelwald', 'Enchanted', 'Creed II', 'Men In Black' And More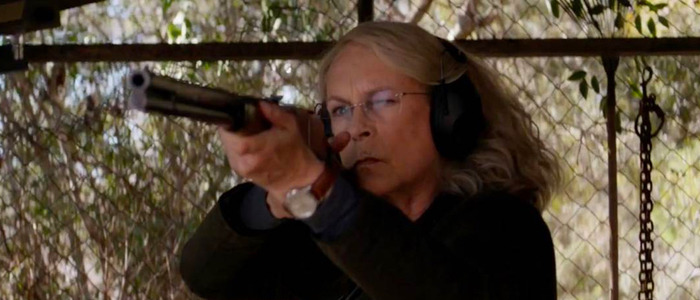 In this edition of sequel bits:
Jason Blum, the man who produced Halloween, wants you to know Halloween is very good. Why would he lie?
Amy Adams offers an update on the Enchanted sequel.
Sylvester Stallone gets his own Creed II poster.
Stallone also provides an update on the next Rambo movie, because the past never dies.
Social media expert Dwayne Johnson welcomes Idris Elba to Hobbs and Shaw.
Steven Spielberg gave the O.K. to Jurassic World: Fallen Kingdom's twist.
Netflix's Godzilla anime sequel now has a release date.
Want to see a blurry set pic of Chris Hemsworth filming Men in Black? Of course you do.
Mission: Impossible – Fallout has a new IMAX poster featuring Tommy Cruise doing dangerous stuff.
Behold a new image from The Crimes of Grindelwald.
Grumpy Gus Terry Gilliam reveals he once turned down an Alien sequel.
Gang, gotta tell ya: The new @halloweenmovie movie ROCKS. And you're all going to love it. I guarantee it. So pipe down, already. And STRAP IN ! #Halloween

— Jason Blum (@jason_blum) July 10, 2018


Jason Blum, a man with a financial interest in the new Halloween movie, took some time to Tweet out that the new Halloween movie "ROCKS." I see no reason why we shouldn't take Mr. Blum at his word and assume this is a 100% non-biased opinion. In all seriousness, I can't wait for the new Halloween, and I look forward to seeing it immediately. It just always strikes me as odd when people with a controlling interest in a film take the time to comment on how good they think the film is. Like...what else are they going to say? "Ugh, my new movie stinks!" Halloween, which features Jamie Lee Curtis battling Michael Myers (presumably) for the final time, hits theaters October 19, 2018.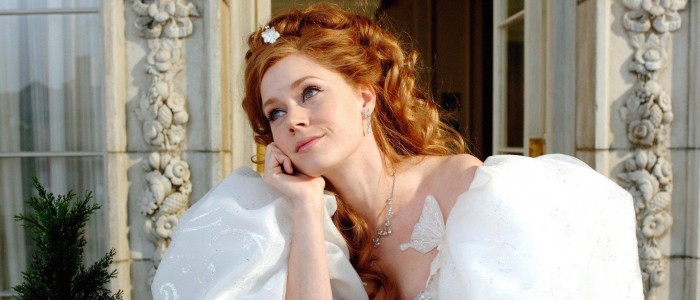 Amy Adams is currently killing it on the extremely dark HBO series Sharp Objects. But the acclaimed actress might be ready to return to some sunnier projects soon – like Enchanted 2. During an appearance on The Talk (via Deadline), Adams offered an update of sorts on the sequel to the 2007 Disney film. "I am absolutely up for that," Adams said. "We're working on it — so hopefully." In Enchanted, Adams played a fairy tale princess who ended up in real-life New York City.
Above you'll see a new character poster for Creed II. The poster features Sylvester Stallone as Rocky Balboa, who returns once again to mentor Adonis Creed (Michael B. Jordan). At one point, Stallone was going to direct Creed 2, after Creed director Ryan Coogler could not return. Steven Caple Jr. took on those duties instead. Creed II finds Adonis still grappling with his family legacy as he prepares to fight the son of Ivan Drago, the man who killed his father Apollo Creed. Creed II opens November 21, 2018.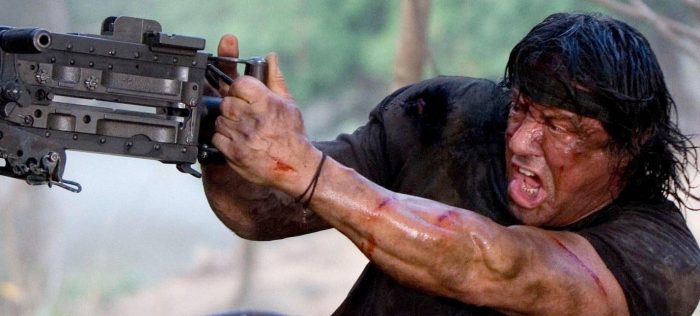 We're not done with the Stallone-related news, y'all. Omega Underground reports that the Stallone-lead Rambo 5 is expected to begin shooting this September. In the film, a "neighboring rancher/friend see his daughter kidnapped by sex-traffickers who turn out to be members of violent drug cartel and the older Rambo agrees to find/rescue her." The last Rambo movie, called simply Rambo, was surprisingly good – and brutal as hell. I don't know if we as a society need more Rambo films, but I guess we're going to get them. This synopsis makes the movie sound like Rambo Meets Sicario, and I would much rather Stallone had gone with the much crazier, now abandoned Rambo 5 idea, in which John Rambo fights a monster.

Dwayne Johnson is very good at using social media. In fact, the savvy Johnson actually includes a clause in his movie contracts in which studios have to pay him extra to advertise movies across his various social media feeds. The latest example of Johnson using his social media powers is above, in which the actor welcomes Idris Elba to the Fast and Furious spin-off Hobbs and Shaw. Johnson and Jason Statham are returning as their Fast and Furious characters, and Elba will be playing the film's villain. There's really not much to say here, except that someone somewhere probably paid Dwayne Johnson over a million dollars to screenshot a Variety article and post it on Instagram. Just think about that for a while, and then feel free to return to your low-wage office job. Hobbs and Shaw will punch its way into theaters July of 2019.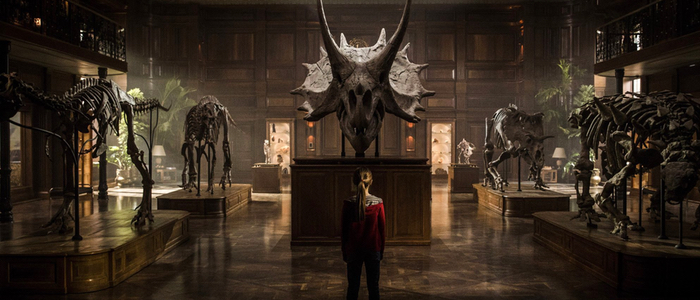 Near the end of Jurassic World: Fallen Kingdom, there's a pretty big twist that takes the franchise in a new direction. Spoilers follow. Near the conclusion of the flick, we learn that the character of Maisie – introduced earlier as the granddaughter of Benjamin Lockwood, John Hammond's old partner – is in fact a clone. It seems Lockwood used the Jurassic Park dino cloning technique to clone his beloved daughter, who was killed in a car accident. This is a pretty damn big twist, all things considered. And according to Fallen Kingdom screenwriter Colin Trevorrow, Jurassic Park grandaddy Steven Spielberg was all-in on the idea. Speaking with Empire, Trevorrow said:
"[Spielberg] really dug the Maisie element of it. He dug the way that we were evolving it, and he was really excited about the questions that it leaves at the end as far as where the future could go."
Trevorrow adds that he himself sees the Maisie twist "as an evolution of the themes that [Michael] Crichton laid out. It's so much closer in our world than making dinosaurs is." I was not a fan of Fallen Kingdom, but I am curious to see where the franchise goes with this twist in mind.
Netflix previously released the Godzilla anime film Godzilla: Planet of the Monsters, and now the sequel is almost here. This is all part of a trilogy of films, with the second film titled Godzilla: City on the Edge of Battle. The sequel will arrive on Netflix July 18, 2018. Eventually, the third film – Godzilla: Stareater (note: that title is badass) – fill find its way to the streaming service as well. Here's the City on the Edge of Battle synopsis.
Following up after the events of Godzilla: Planet of the Monsters, Haruo Sakaki is rescued by Miana, a girl belonging to an indigenous tribe called the "Houtua", descendants of the humans left behind. The Houtua tell Haruo that their god was destroyed by Godzilla and left behind eggs. Meanwhile Galu Gu, the leader of the Bilusaludo, discovers that the Houtua's spears are sourced from the "nanometal" used to build Mechagodzilla, long thought to have been destroyed at the foot of Mount Fuji in the 21st Century.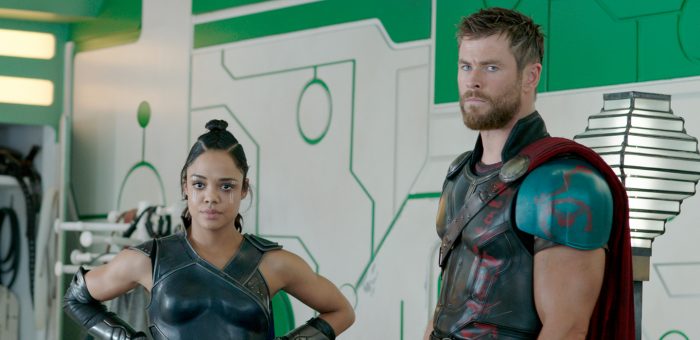 The Men in Black spin-off/sequel/remake/whatever is currently filming in London. The flick reunites Thor: Ragnarok stars Chris Hemsworth and Tessa Thompson, and is said to open up the world of the Men in Black franchise on a more global scale. Some set pics have started to surface featuring Chris Hemsworth in costume. You can see them here. I won't lie: they're not that exciting. In fact, they're about what you'd expect: Chris Hemsworth wearing a black suit and sunglasses. But hey, Chris Hemsworth is a handsome fella, so taking a gander at him in fine menswear isn't the worst use of your time. The Men in Black spin-off movie will arrive June 14, 2019.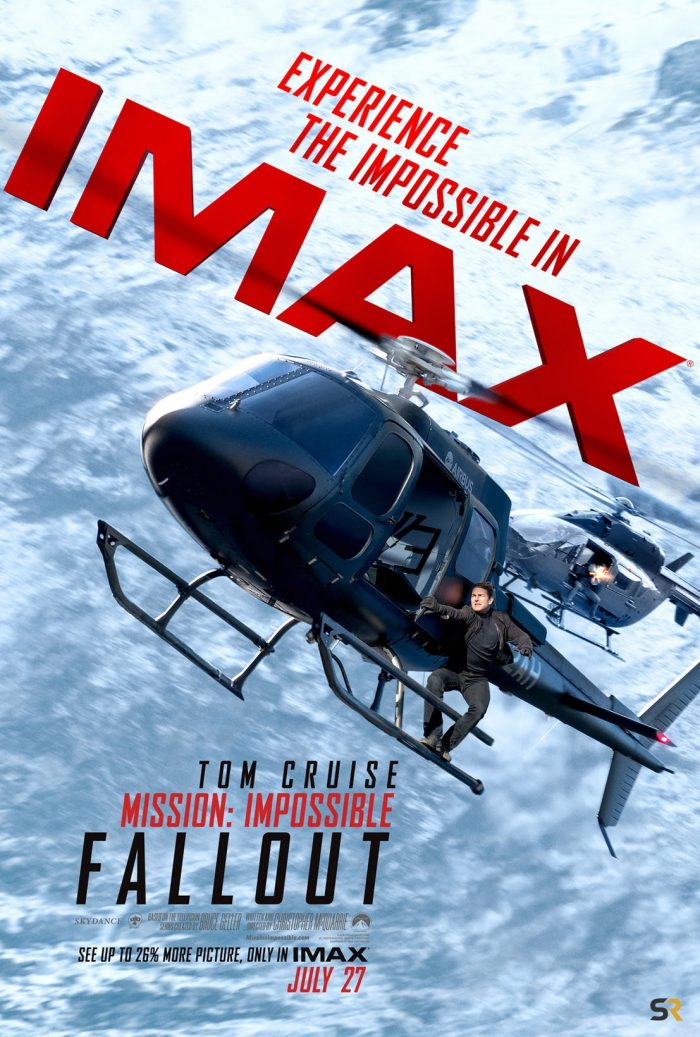 Mission: Impossible – Fallout is on its way to save the summer movie season. While we wait for the action sequel to arrive in theaters this month, we can stare longingly at the new IMAX poster above. It features Tom Cruise doing what he does best: risking his life for our enjoyment. Cruise is just chilling on the side of a helicopter, a stunt I'm sure he really did, because he's a lunatic. Mission: Impossible – Fallout hits theaters July 27, 2018. I can't wait.
Newt Scamander is back in an exclusive new #FantasticBeasts: The Crimes of Grindelwald image! Conjure it up here: https://t.co/LXJEZdUhJQ pic.twitter.com/JrLWiwO2Oq

— Empire Magazine (@empiremagazine) July 10, 2018
There's a new image from the Fantastic Beasts sequel The Crimes of Grindelwald, and it's pretty much what we've come to expect at this point. That is, it's an image of Eddie Redmayne wearing an overcoat and pointing a wand at someone or something. The sequel set within J.K. Rowling's Wizarding World has Magizoologist Newt Scamander (Redmayne) joining forces with young Albus Dumbledore (Jude Law) to "prevent the devious Gellert Grindelwald (Johnny Depp) from raising pure-blood wizards to rule over all non-magical beings." The movie hits theaters November 16, 2018.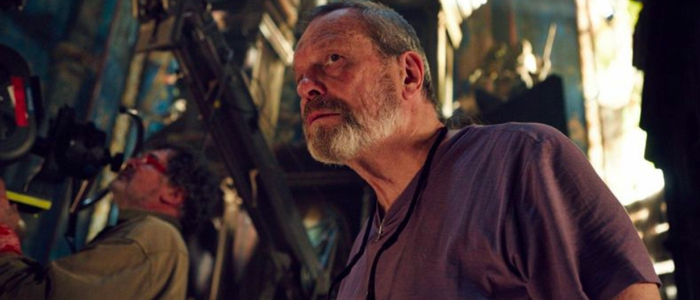 Miserable, grumpy man Terry Gilliam is out there saying all the wrong things as he promotes his long-delayed film The Man Who Killed Don Quixote. During an interview with RogerEbert.com, Gilliam revealed he was once approached to helm an Alien sequel – likely Alien 3 – and turned it down. Why? Because Terry Gilliam apparently hates the Alien films, as he hates most things. ""I got offered an Alien sequel because I was hot at that time, as a result of Time Bandits and Fisher King, and I just don't want to do films like that. They are factory jobs, working for a studio. My last factory job was on the Chevrolet assembly plant in Los Angeles, during my junior year of college, night shift on the line. Never again." While I appreciate Gilliam's stance here – he wants his films to personal, not some studio hack job – it's the rest of his comment that raises an eyebrow or two:
"Alien is just a ghost train where something jumps out and you don't know who's going to die next. When I watched the first Alien, all I kept saying was, 'Just kill them all and be done with it,' because you just know that they're all going to die along the way. In the end, Sigourney Weaver, who we've established is a really tough military officer, is running around in her underwear trying to find a cat. Give me a f—king break. There are some great moments in it, but the shot that should've never been in the film is the one at the end showing the alien getting blown out of the airlock. You see the alien, and it's just a guy in a rubber suit. Up until then, you only saw bits of the alien, and it seemed to be huge and vast and terrifying. That was so clever. It was like the shark in Jaws. I told Ridley, 'You don't want that shot of the alien at the end. Cut it!'
Alright, we get it, Terry Gilliam. You don't like things.