'Christopher Robin' Trailer: Get Tickets Now To See The Silly Old Bear Return To The Big Screen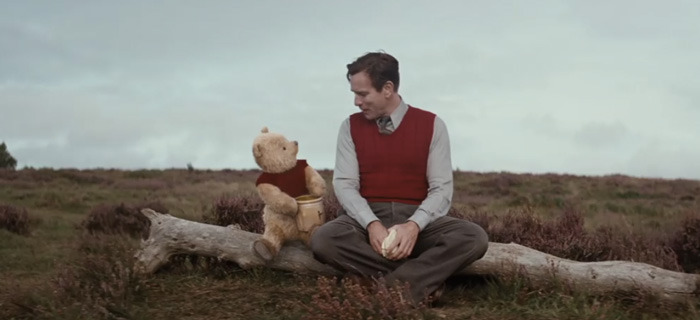 While blockbuster summer will start coming to an end later this month, there are still some gems waiting for audiences to wrap up the season in August. One of those will undoubtedly be the return of Winnie the Pooh.
Christopher Robin finds the childhood friend of Winnie the Pooh (and the rest of his pals from the Hundred Acre Wood) all grown up and stressed out by the responsibilities of everyday life. He's not able to spend much time with his family, so Winnie the Pooh takes the time to help Christopher robin live a little more carefree.
Watch the Christopher Robin Trailer
This trailer has some more adorable moments between Christopher Robin (Ewan McGregor) and Winnie the Pooh, including a moment where he plays "nap," and then quietly says everything he sees out the window of a train ride. It warms the heart and has me extremely excited to see how this Hook-style approach to Winnie the Pooh comes together.
However, it's all awkwardly underscored by the modern pop tune "One Foot" by Walk the Moon, which doesn't really fit with the old fashioned vibe of the rest of the movie. Plus, the lyrics are used rather literally, though it's not nearly as bad as the use of the Foo Fighters track "Walk" from the Welcome to Marwen trailer.
But if that doesn't turn you off, then you should go buy tickets that went on sale today.
Marc Forster (Finding Neverland) directs Christopher Robin from a screenplay by Alex Ross Perry and Allison Schroeder. The voice cast includes Jim Cummings as Winnie the Pooh and Tigger, Brad Garrett as Eeyore, Toby Jones as Owl, Nick Mohammed as Piglet, Peter Capaldi as Rabbit and Sophie Okonedo as Kanga. Meanwhile, Hayley Atwell and Bronte Carmichael play Christopher Robin's wife Evelyn and daughter Madeline.
In the heartwarming live action adventure Disney's "Christopher Robin," the young boy who shared countless adventures with his band of lovable stuffed animals in the Hundred Acre Wood is now grown up and living in London but he has lost his way. Now it is up to his childhood friends to venture into our world and help Christopher Robin rediscover the joys of family life, the value of friendship and to appreciate the simple pleasures in life once again.
Christopher Robin arrives in theaters on August 3, 2018.