'Ghoul' Trailer: Netflix's First Indian Horror Series Comes From The Makers Of 'Get Out'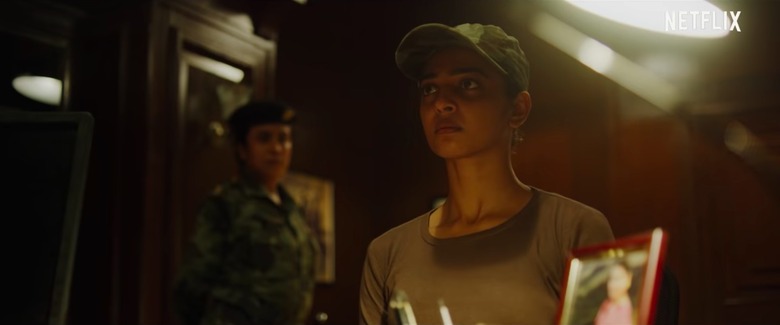 Netflix's first foray into Indian horror looks eerie as hell. The streaming service has been expanding its foreign-language catalogue exponentially, and its partnerships with Indian production companies have borne everything from charming romantic-comedies to anthology films to its buzzy thriller series, Sacred Games.
For Ghoul, Netflix's first Indian horror series, the streaming giant has its most exciting partnership yet. Co-produced by Blumhouse, the illustrious studio behind Get Out and The Purges series, and celebrated Indian producer Anurag Kashyap, Ghoul is a unique cross-cultural melting pot. And now the first Ghoul trailer has been released.
Ghoul Trailer
Radhika Apte (in her third Netflix project) stars as a military interrogator who has gotten her own father arrested for crimes against the state. But the latest prisoner to arrive at the remote military interrogation center where she works proves to be far more dangerous than anything she has faced up until now. The trailer is dark and moody, taking its time to set up the taut atmosphere at the military center. But when the prisoner (Mahesh Balraj) arrives, all hell breaks loose — literally. The mysterious prisoner unleashes all manner of demons onto the military personnel, turning the center into a prison and turning the series into a claustrophobic escape story.
While it's a hell of a horror premise, I wonder how the story can maintain its momentum over the course of a series instead of a film. But Ghoul is a miniseries consisting of only three episodes, which is probably the perfect runtime for a premise like this.
Here is the official synopsis for Ghoul:
From the makers of Insidious, Get Out and Udta Punjab – Ghoul is a chilling series about a prisoner who arrives at a remote military interrogation centre and turns the tables on his interrogators, exposing their most shameful secrets. You can fight the demons of this world but what about the ones that aren't?
All three episodes of Ghoul premiere on Netflix on August 24, 2018.