'Better Call Saul' Season 4 Teaser Asks: Whose Paths Will Cross?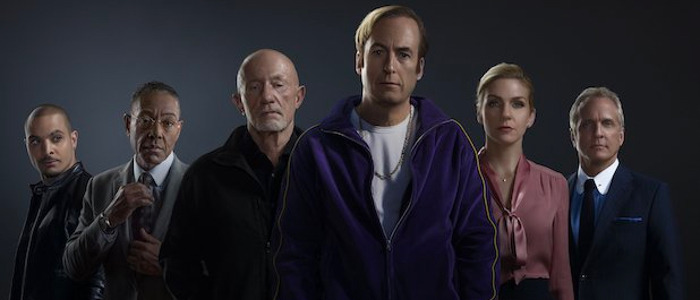 One of the best shows on TV is returning for its fourth season, and here's the trailer to prove it. Better Call Saul, the Breaking Bad spin-off that has somehow eclipsed Breaking Bad, will be back for another anxiety-inducing season in which Jimmy McGill continues his transformation into Saul Goodman. Watch the Better Call Saul season 4 teaser below.
Better Call Saul Season 4 Teaser
I tend to avoid shows that are too stressful or anxiety-inducing because folks, I get enough of that in my real life. But I can't resist Better Call Saul, a generally distressing series that just happens to be one of the best shows on television right now. Each new season has found Better Call Saul going to darker places, and yet the show remains riveting. An incredible cast and a group of talented writers manage to make all of this manageable and digestible, and even pretty damn funny at times.
The series focuses on Jimmy McGill (Bob Odenkirk), a character first introduced on Breaking Bad as shady lawyer Saul Goodman. Saul tracks Jimmy's descent as he turns from the genuinely likable Jimmy into the much more odious Saul. Odenkirk isn't the only Breaking Bad member to star here. Jonathan Banks' cop-turned-enforcer Mike Ehrmantraut is here as well. So is Giancarlo Esposito's drug kingpin Gus Fring. If you've watched all of Breaking Bad, you know what eventually happens to these characters. But that foreknowledge never makes Better Call Saul any less engrossing.
At the end of last season, Jimmy's brother Chuck (Michael McKean) committed suicide. Season 4 will likely have Jimmy dealing with the fallout of Chuck's death, while also trying to get back on his feet as a lawyer – he lost his license to practice law for a few months last season. The title of this video – "Whose Paths Will Cross" – seems to be indicating even more Breaking Bad characters will pop up this season. At the end of last season, Bad character Lydia Rodarte-Quayle (Laura Fraser) made an appearance. Saul and Bad creator Vince Gilligan has previously teased a "very important" Breaking Bad character making an appearance in the approaching season. "There is a very important character – I'm not promising you ever saw this character – but there was a very important character nonetheless from the Breaking Bad era who we're going to meet this year," Gilligan said.
Better Call Saul returns on August 6, 2018.
In Better Call Saul's fourth season, Chuck's death catalyses Jimmy McGill's (Odenkirk) transformation into Saul Goodman. In the wake of his loss, Jimmy takes steps into the criminal world that will put his future as a lawyer – and his relationship with Kim (Rhea Seehorn) – in jeopardy. Chuck's (Michael McKean) death deeply affects former colleagues Howard (Patrick Fabian) and Kim as well, putting the two of them once again on opposite sides of a battle sparked by the Brothers McGill.
Meanwhile, Mike Ehrmantraut (Jonathan Banks) takes a more active role as Madrigal Electromotive's newest (and most thorough) security consultant.
It's a volatile time to be in Gus Fring's (Giancarlo Esposito) employ, as Hector's collapse sends shock waves throughout the Albuquerque underworld and throws the cartel into chaos – tearing apart both Gus and Nacho's (Michael Mando) well-laid plans. While Gus changes course, Nacho finds himself in the crosshairs of deadly forces.