Sacha Baron Cohen's New Trump-Themed Showtime Series Is Titled 'Who Is America'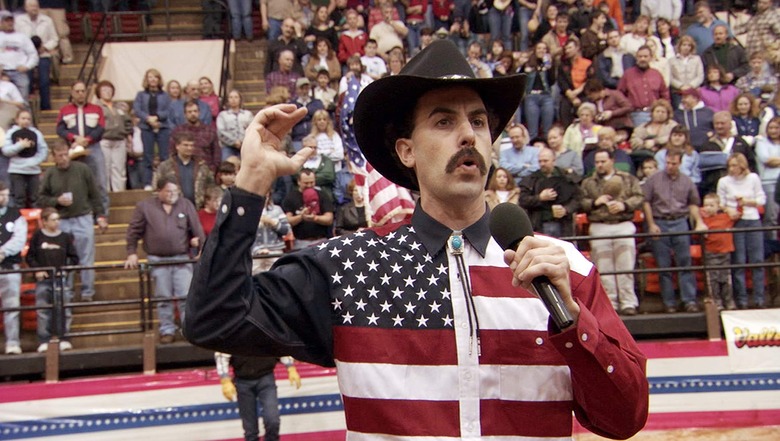 The veil has finally lifted on Sacha Baron Cohen's mysterious new Showtime series. The provocative comedian/actor has been teasing a Donald Trump-themed project for the past week, and reports emerged that Showtime had picked up the project, which has been a year in the making. Now, new posters and trailers give us a peek at Baron Cohen's new character, who is ready to mock America in the aptly titled series Who is America?
Last week, Baron Cohen turned heads with a Fourth of July Twitter post that teased a new satirical project that possibly targeted his longtime foe, Donald Trump. Showtime soon announced that it had picked up Baron Cohen's project, a comedy interview series in the vein of the Da Ali G Show, which first launched him to fame. But apart from a few cryptic videos teasing the July 15 premiere of "perhaps the most dangerous show in the history of television," we knew little about the new series. Until now.
Baron Cohen's new series will be titled Who is America? according to Vulture, whose editors noticed posters for the upcoming series in New York. "You've been warned," the posters read, while giving us a glimpse at Baron Cohen's new character, peeking out surreptitiously from behind American flags and wearing various types of eyewear.
Baron Cohen followed up those posters with a video teaser giving us a first look at the series, which the comedian/actor has been working on in secret for nearly a year.
— Sacha Baron Cohen (@SachaBaronCohen) July 8, 2018
"Imagine if Sacha Baron Cohen had been undercover secretly filming a new show for a year..." the video says, before launching into a montage of out-of-context images, including a big old naked butt. Classic. But the teaser ends with an interview segment with former Vice President Dick Cheney who, at the behest of Baron Cohen (speaking with an accent similar to his character in Borat), signs a "waterboard kit."
"That's the first, that's the first I've ever signed a waterboard," Cheney remarks, presumably unaware that he was being filmed for a comedy show.
Despite making a name for himself as an outrageous comedian and provocateur, Baron Cohen has been relatively quiet in recent years. The last time he appeared on the big screen was in 2016's Grimsby and Alice Through the Looking Glass. But with Who is America, Baron Cohen will be making a return to the gimmick that made him famous: tricking high-profile people through interviews with his over-the-top personas. Now we'll have to wait and see if he got anyone even higher in the chain of command than Cheney.
Who is America? premieres on Showtime on July 15, 2018.