'The Favourite' Trailer: Emma Stone And Rachel Weisz Star In Yorgos Lanthimos' Royally Insane Film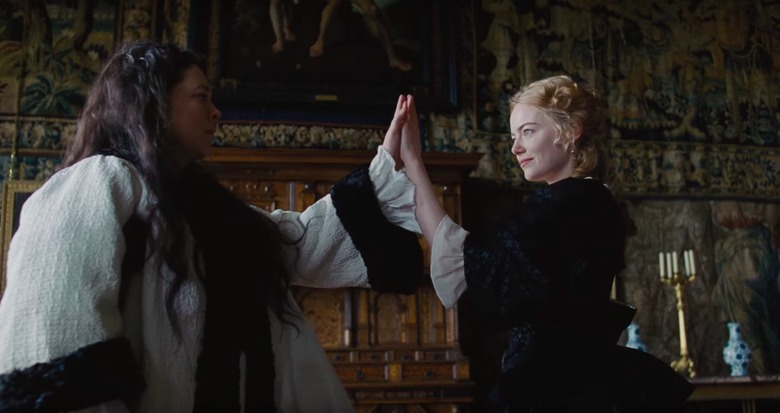 The Oscar race just got a whole lot more interesting. Following up his unsettling masterpieces The Lobster and The Killing of a Sacred Deer, director Yorgos Lanthimos' latest film is a glorious period piece perversion. Lanthimos heads to 18th century England with The Favourite, a historical drama starring Emma Stone and his The Lobster star Rachel Weisz. See The Favourite trailer below.
The Favourite Trailer
Weisz and Stone star as two ladies in waiting to Queen Anne, the Duchess of Marlborough, played by Olivia Colman (also reuniting with Lanthimos following The Lobster). But as Queen Anne's health and mental state fails and England's war with France drags on, the royal court grows progressively debaucherous. Ruling in her stead is Anne's close friend Lady Sarah (Weisz, commanding and stone-cold), while the "mad" Anne conducts duck races and eats pineapple. But the arrival of Stone's charming new servant Abigail throws the power dynamics into chaos, with Queen Anne immediately taking a liking to the ambitious young woman.
The Favourite seems like it's jam-packed with all the political intrigue of a typical historical drama, but with the added benefit of Lanthimos' signature grotesque flair. The trailer is zany and wild, a little bit sexual and a little bit violent — all set to an eerie, cacophonous orchestral score. Both Stone and Weisz are at the top of their games in The Favourite trailer, but the standout is Colman, whose slobbering, spacey Queen Anne may become the awards favorite once the Oscars roll around later this year.
And what of Lanthimos, one of the most intriguing directors working today? While the Greek has earned a screenplay nomination for the deeply disturbing satire The Lobster, The Killing of a Sacred Deer only earned some buzz. But perhaps with a darkly comic take on a historical drama, Lanthimos could possibly get himself a Best Picture or Director this year. Whatever the case, we're already in line to see his latest unnerving movie.
Here is the official synopsis for The Favourite:
Early 18th century. England is at war with the French. Nevertheless, duck racing and pineapple eating are thriving. A frail Queen Anne (Olivia Colman) occupies the throne and her close friend Lady Sarah (Rachel Weisz) governs the country in her stead while tending to Anne's ill health and mercurial temper. When a new servant Abigail (Emma Stone) arrives, her charm endears her to Sarah. Sarah takes Abigail under her wing and Abigail sees a chance at a return to her aristocratic roots. As the politics of war become quite time consuming for Sarah, Abigail steps into the breach to fill in as the Queen's companion. Their burgeoning friendship gives her a chance to fulfil her ambitions and she will not let woman, man, politics or rabbit stand in her way.
The Favourite opens in theaters on November 23, 2018.