Jake Johnson's 'Jurassic World' Character Was Almost In 'Fallen Kingdom'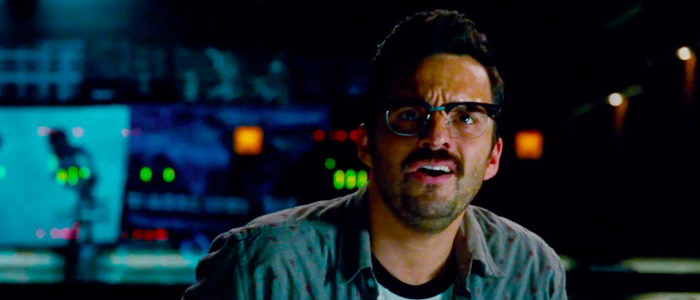 Say what you will about Jurassic World, one of the highlights of the film was Jake Johnson's character Lowery (and his interactions with Lauren Lapkus' character Vivian). Johnson's character didn't return for Jurassic World: Fallen Kingdom, but at one point, there was a chance the character could've had a part to play in the recently-released sequel.
In Jurassic World: Fallen Kingdom, we're introduced to nerdy, nervous tech guy Franklin (Justice Smith). While watching the film, I thought it was a bit weird for the film to introduce a new nerdy, nervous tech guy when the previous film, Jurassic World, had a nerdy, nervous tech guy of its own – Lowery, played by very funny person Jake Johnson. As it turns out, a possible early draft of the Fallen Kingdom script had Lowery joining in on the adventure, but rewrites subsequently changed the character into Franklin. Speaking with Empire, Fallen Kingdom writer Colin Trevorrow confirmed that while they considered bringing Lowery back, they ultimately decided to go with a character with a slightly different temperament:
"There may have even been an early moment where Lowery was Franklin's character, because he potentially could have done that job...But he didn't quite have the same spirit. We did like the idea of [Zia and Franklin] being pretty idealistic young people who are activists who really believe in the cause that Claire believes in. I wasn't really able to shoehorn [Lowery] into that, he's kind of a cynical guy."
I suppose this makes sense. But I also felt like Franklin was a bit underdeveloped in the film – a problem that might have been solved if they had just brought Lowery back instead. Or at the very least, added a bit more for Franklin to do.
I know people have problems with Jurassic World, but Johnson's performance and his awkward, comical banter with co-star Lauren Lapkus was one of the best things about that film, so the thought of bringing those characters back for more could've bolstered Fallen Kingdom considerably. I'm not alone in this feeling, as others wanted Johnson's character back for more. While Fallen Kingdom was in development, Johnson was asked if he was returning. Alas, it was just not meant to be.
Of course, there's still time to right this cinematic wrong. Jurassic World 3 is scheduled for a June 11, 2021 release date. Colin Trevorrow, we demand you cut every single other character from the script and just bring back Lowery instead. Make it two hours of Jake Johnson sitting in a control room making quips about dinosaurs. That might not seem very cinematic, but it's bound to be better than Jurassic World: Fallen Kingdom.