'Sorry To Bother You' Featurette: Meet The Super Talented Cast Of Your New Favorite Social Satire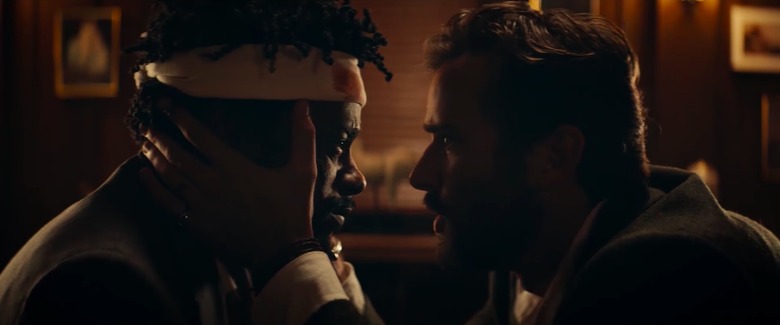 One of the first things you notice about Sorry to Bother You, Boots Riley's new social satire that is sparking conversations about black identity, is how stacked its cast is. And a new featurette highlights the character actor-studded cast.
Atlanta breakout LaKeith Stanfield leads a cast filled with everyone's favorite rising stars, including Tessa Thompson, Armie Hammer, and Steven Yeun. Each of these actors alone would be enough to bring you into the theater, but combined, they'll make you want to stay.
Sorry to Bother You Featurette
The cast of Sorry to Bother You had effusive praise to share about first-time director Boots Riley in a /Film interview published earlier this morning, but now in this featurette, they heap tons of praise on each other.
"Keith is great, he brings a sort of subtle power to his character," Armie Hammer says, kicking things off with a compliment for Stanfield. Stanfield returns the favor by calling Hammer "a very serious actor who is very dedicated to his craft," in an interview interspersed between scenes of Hammer giving an explosive, against-type performance as an unhinged businessman. The featurette continues highlighting the roles played by Thompson and Yeun, as well as the unexpected turn from Danny Glover.
"The movie is a wild, crazy, interesting, off-the-wall, dystopian Oakland in the world of telemarketing," the cast says of Sorry to Bother You, the featurette cutting and pasting their different responses together. It's as wild and haphazard as the movie looks — and how /Film's Ben Pearson describes it in his Sundance review of the film. "Fanciful, disturbing, and wildly original, Sorry to Bother You announces the arrival of a fresh, bold voice in American cinema," he writes of Boots Riley. And it works because Riley has a stellar cast to bring his vision to life.
Sorry to Bother You is playing in limited theaters now.
In an alternate reality of present-day Oakland, Calif., telemarketer Cassius Green finds himself in a macabre universe after he discovers a magical key that leads to material glory. As Green's career begins to take off, his friends and co-workers organize a protest against corporate oppression. Cass

ius soon falls under the spell of Steve Lift, a cocaine-snorting CEO who offers him a salary beyond his wildest dreams.