New Sacha Baron Cohen Comedy Interview Series In The Works At Showtime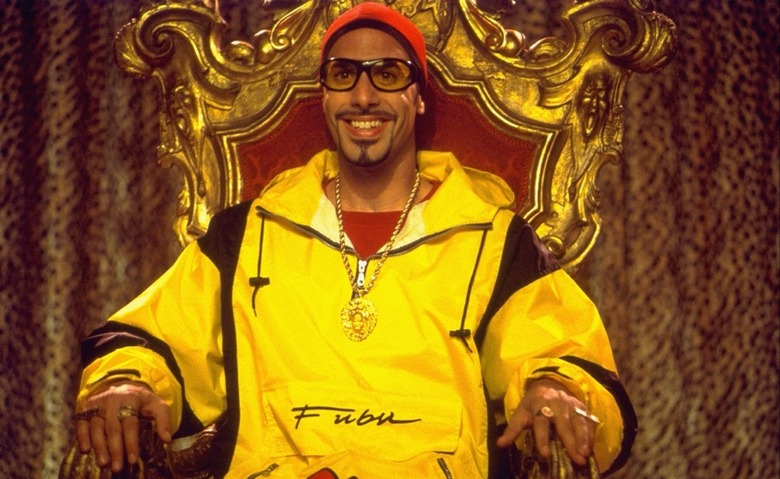 Sacha Baron Cohen's cryptic hints at a new project might have been revealed. The actor/comedian is in talks with Showtime to star in a new comedy interview series — a return to the type of show that first rocketed him to fame.Variety reports that Showtime is negotiating with Baron Cohen to make an illustrious return to TV. Baron Cohen could soon star in a Showtime comedy interview series structured like his Da Ali G Show, which premiered in 2000 and brought the comedian fame as the outrageous satirical character "Ali G." Da Ali G show featured Baron Cohen's title character — styled like a boorish streetwise "poseur" — interviewing various public figures and egging them on with wild antics or politically incorrect statements. Baron Cohen would perfect this technique in many of his feature films, in which he donned various wild personas.
It's possible that this new Sacha Baron Cohen TV series could have some bearing on the Donald Trump-centric tweets Baron Cohen released a few days ago, but details remain scarce. Baron Cohen released a cryptic video on July 4 featuring a doctored video of Trump lambasting the comedian that promised its viewers: "He's back as you've never seen him before."
Could the new Sacha Baron Cohen TV series kick things off with an unwitting Trump interview? Or will it be yet another one-off joke like his jabs at the president in 2016's Grimsby, to add fuel to the pair's lengthy and antagonistic feud?
However, Variety notes that "details of the project beyond Baron Cohen's involvement are still sketchy." The publication believes that least one or two episodes have already been produced or at least roughly assembled. However, both Showtime and representatives for Baron Cohen did not comment on the project.
But reports of roughly assembled episodes may give credence to rumors floating about that Baron Cohen has been secretly test screening a new film for the past year. It's possible that Baron Cohen's new film could have been repurposed for this TV series.
This Showtime series will be Baron Cohen's second TV project in recent months. In April, the comedian was cast in the lead role of the Netflix limited series The Spy, in which he plays the real-life Israeli spy Eli Cohen. So with this Showtime series and The Spy on its way, you'll see more Baron Cohen on your TV screens very soon, whether you want to or not.