Breaking 'Ant-Man And The Wasp' Box Office News: Marvel Movie Makes Money, Water Is Wet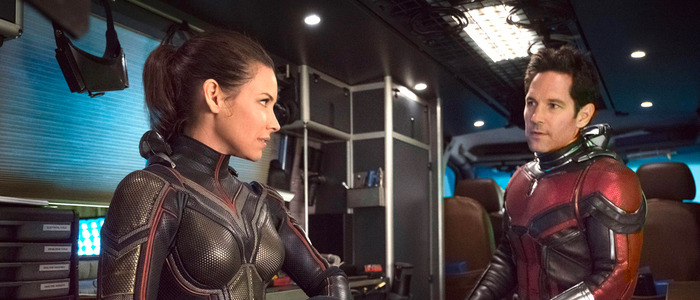 I bet you didn't see this one coming, folks! In an astounding, unprecedented bit of breaking news, we have learned that a Marvel movie is making money at the box office. I know, I know – we all thought this couldn't happen. But these are strange times we live in. In all seriousness: the Ant-Man and the Wasp box office is off to a very good start, with early projections putting it ahead of Marvel's Doctor Strange.
While Ant-Man may not seem like a huge box office juggernaut the way other, more-popular Marvel characters seem to be, you can expect the film to clean up at the multiplex. Deadline reports that after the film's Thursday night opening, Ant-Man and the Wasp is off to a $11 million start, "with some sources believing the movie could see an even bigger growth spurt north of $13M+."
This puts the film ahead of the first Ant-Man's opening night, which started at $6.4M, going onto $22.6 million Friday and a $57.2 million opening overall. Before Ant-Man and the Wasp, nerdy box office experts put down their calculators long enough to assume that the Ant-Man sequel would have an opening weekend on par with Doctor Strange's $85 million haul. But based on this opening night take, it looks like Ant-Man and the Wasp is going to beat that number. Good for you, Ant-Man and the Wasp.
If the trend continues, Ant-Man and the Wasp's opening weekend could be more in line with Marvel's Guardians of the Galaxy, which took in $94.3 million when the weekend was over and done with.
Is there a lesson to learn here? Yes, and it's that Marvel movies will always make money. Marvel has this box office thing sewn up tight, and while other sure-fire franchises like Star Wars may inexplicably stumble, it seems Marvel will continue to thrive. It helps that Marvel started the year off with Black Panther, a film that earned rave reviews and was a major box office hit. Black Panther was then followed-up with the biggest Marvel event movie to date – Avengers: Infinity War.
After the hearty combo of Black Panther and Infinity War, it's clear MCU fans were still hungry for more, gluttons that they are. Ant-Man and the Wasp is also one of the lightest, most care-free Marvel movies to date. That might work in the film's favor – Infinity War was a bit of a bummer, ending on a supremely dour note. Marvel fans looking for something to take the edge off may find themselves embracing the adventures of the charming duo that is Paul Rudd and Evangeline Lilly.
Ant-Man and the Wasp is now playing everywhere.
Scott Lang is grappling with the consequences of his choices as both a superhero and a father. Approached by Hope van Dyne and Dr. Hank Pym, Lang must once again don the Ant-Man suit and fight alongside the Wasp. The urgent mission soon leads to secret revelations from the past as the dynamic duo fi

nds itself in an epic battle against a powerful new enemy.