Live-Action 'Gundam' Movie Is Coming From Legendary Entertainment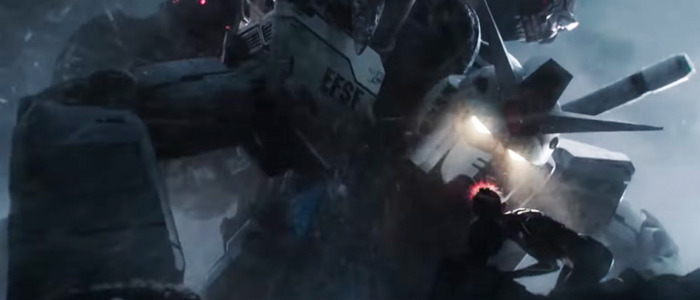 After a brief appearance on the big screen earlier this year in Steven Spielberg's Ready Player One, audiences are about to get an entire live-action Gundam movie based on the popular property. Legendary Entertainment is co-producing a live-action adaptation with Sunrise, the Japanese animation studio, and production company that created the Mecha anime Mobile Suit Gundam and all of its spinoffs and sequels since 1979. Read more about the first ever live-action Gundam movie below. 
At Anime Expo 2018, Legendary and Sunrise jointly announced that they're co-producing a live-action feature film version of Gundam. The story for this version of the movie is under lock and key for the moment, but for those who know nothing about Gundam, here's the press release's description:
The original Gundam series is set in the Universal Century, an era in which humanity's growing population has led people to emigrate to space colonies. Eventually, the people living in the colonies seek their autonomy, and launch a war of independence against the people living on Earth. Through the tragedies and discord arising from this human conflict, not only the maturation of the main character, but also the intentions of enemies and the surrounding people are sensitively depicted. The battles in the story, in which the characters pilot robots known as mobile suits, are wildly popular.
This is the latest of many giant robot property pursued by Hollywood. In addition to Michael Bay's Transformers movies, the Pacific Rim films, and Power Rangers, Paramount has movies based on ROM the Spaceknight, Micronauts, and M.A.S.K. in the works, and studios have been trying to make a Voltron movie for years. There's something undeniably entertaining about seeing a huge robot piloted by humans stomping around and fighting evil – it's satisfying on a pure "Saturday morning cartoon" level.
The press release is vague, but there are tons of different ways a Gundam movie could go. The property has been around since the late 1970s and has dipped into anime, manga, animated films, video games, plastic models, toys, and novels. That's a whole lot of material to mine for a usable story, and many of those are still ongoing – a new animated film, Mobile Suit Gundam Narrative, is slated to hit Japanese theaters in November 2018.
There's no word yet on who may be involved as a writer, director, or star of this live-action film version, but we'll be sure to keep you posted when we learn more.