'Star Wars Resistance' Image Reveals Characters, Possible Premiere Date Announced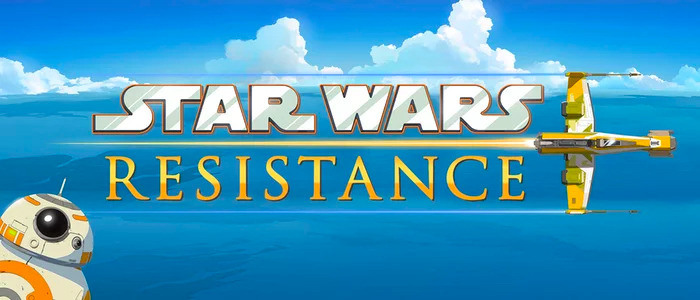 A recent Disney event revealed a brand-new look at character designs from the upcoming animated Star Wars series Star Wars Resistance. In addition to the new image, we now have an idea of when the show will premiere. Get all the Star Wars Resistance details below.
A recent Disney France Partners Event revealed a brand-new look at Star Wars Resistance, a new animated series set to premiere on Disney XD. Behold:
Star Wars Resistance Character Art Revealed | https://t.co/Gox1PxSoBv https://t.co/10Bu2mu8YT #starwarsresistance #lucasfilm #RDVDisney2018 pic.twitter.com/nZk1eJYKFx

— Yakface.com (@yak_face) July 5, 2018
Alright, admittedly, this isn't the best possible photo. It's at an odd angle and taken from a distance. That said, this not-too-clear image provides us with our first look at the characters on the show. It also reveals the presence of a red stormtrooper from the First Order. As previously reported, Star Wars Resistance is an anime-inspired series set prior to Star Wars: The Force Awakens, and will feature appearances from Force Awakens characters like Poe Dameron and Captain Phasma.
Force Awakens and Last Jedi actors Oscar Isaac and Gwendoline Christie will both return to voice the characters they've played in live-action. BB-8 appears is also in the series, and you can make out the droid in the image above. You can also see a character who kind of looks like Poe in the background, and a character I'm assuming is Phasma on the left-hand side with the red stormtrooper.Star Wars Resistance's  voice cast includes Christopher Sean (Days of Our Lives), Suzie McGrath (East Enders), Scott Lawrence (Legion), Myrna Velasco (Elena of Avalor), Josh Brener (Silicon Valley), Donald Faison(Scrubs), Bobby Moynihan (DuckTales), Jim Rash (Community) and Rachel Butera (Tammy's Tiny Tea Time).Star Wars Resistance hails from Dave Filoni, creator of the animated Star Wars Rebels. "The idea for Star Wars Resistance came out of my interest in World War II aircraft and fighter pilots," Filon said. "My grandfather was a pilot and my uncle flew and restored planes, so that's been a big influence on me. There's a long history of high-speed racing in Star Wars, and I think we've captured that sense of excitement in an anime-inspired style, which is something the entire team has been wanting to do for a long time."
In addition to the image above, we now have a better idea of when the show will make its debut: October. At least, that's according to this tweet from a Disney France employee.
It's only a matter of time before Disney announces the official date in October that Star Wars Resistance will premiere.