'Ant-Man And The Wasp' Featurette Highlights Action And Special Effects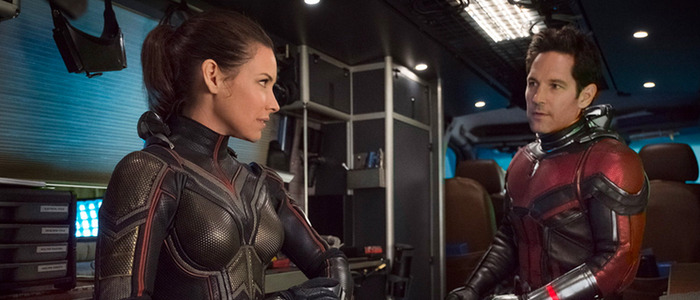 Ant-Man and the Wasp is one of Marvel's lightest, most laid-back movies in recent memory. And that's not a bad thing. The film is low on stakes and big on funny set pieces and action scenes. A new Ant-Man and the Wasp featurette highlights some of the film's special effects and action beats, giving you a taste of what to expect from the latest MCU entry.
Ant-Man and the Wasp Featurette
If you're going into Ant-Man and the Wasp expecting a continuation of what happened in Avengers: Infinity War, you should probably check those expectations at the door. The new Ant-Man film is far removed from the events of Infinity War. Instead, it's a light-hearted, amusing, and mostly inconsequential action-comedy.
This featurette is a good example of what you can hope to see when Ant-Man and the Wasp arrives at the end of this week. The focus here is on both the humorous special effects – Paul Rudd's Scott Lang keeps shrinking and growing to comical sizes – and the fight sequences. Star Evangeline Lilly says that "things don't stop moving" in the film, and that's spot-on. Ant-Man and the Wasp is very fast-paced, moving at a steady clip towards its conclusion. However, Lilly also says that "the stakes couldn't be higher," and that's really not true here. But I suppose you have to say that about your big comic book movie, or else people might not be interested.
In his /Film review of Ant-Man and the Wasp, Josh Spiegel hit the nail on the head when he wrote:
The stakes in Ant-Man and the Wasp are exceedingly low, a welcome contrast to Infinity War as well as many other MCU movies. What's more, the tone is even looser than that of the original film; to wit, at one point, Scott and Hope desperately try to...procure a chintzy trophy from his daughter's backpack at elementary school. That's the level at which most of the film operates: the characters' lives are in peril, but in cheerfully ridiculous fashion. With Peyton Reed returning as director, Ant-Man and the Wasp is consistently light and moderately funnier. The script — credited to five writers, including Rudd — thankfully introduces a lot of new humor, while judiciously bringing back the uproarious running gag in which Scott's ex-con pal Luis (Michael Pena) recounts past stories in a meandering but fast-paced fashion.
Ant-Man and the Wasp, starring Paul Rudd, Evangeline Lilly, Michael Peña, Walton Goggins, Bobby Cannavale, Judy Greer, Hannah John-Kamen, Michelle Pfeiffer, Laurence Fishburne and Michael Douglas, opens July 6, 2018.