Here's Why The Movie About Russ Meyer & Roger Ebert Starring Will Ferrell & Josh Gad Fell Apart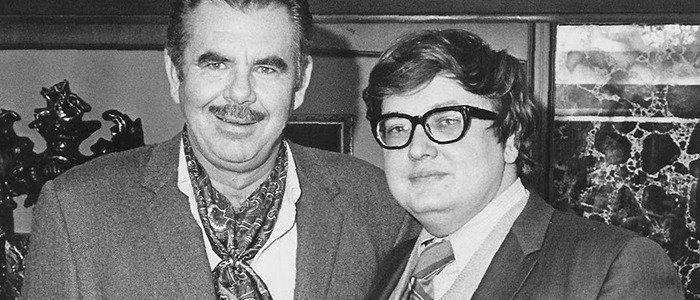 Back in 2013, word broke of a film focused on the partnership of filmmaker Russ Meyer and film critic Roger Ebert. That film, Russ & Roger Go Beyond, later attracted Will Ferrell and Josh Gad in the lead roles, with Sing Street filmmaker John Carney hired to direct. The film was very close to beginning production, and then the plug was pulled. And now we know why.
In 1970, Russ Meyer, a filmmaker known for his wild sexploitation films like Faster, Pussycat! Kill! Kill! and Mondo Topless, teamed with film critic Roger Ebert to make Beyond the Valley of the Dolls. Ebert was a budding screenwriter at the time, and he and Meyer knocked out the script in about six weeks. The film was originally intended to be a straight-forward sequel to 1967's Valley of the Dolls, but Ebert and Meyer turned it into "a satire of Hollywood conventions, genres, situations, dialogue, characters, and success formulas, heavily overlaid with such shocking violence." The end result eventually became a B-movie classic, although at the time of release, critics and audiences were not pleased.
Beyond The Valley of the Dolls
The wild and crazy story of the making of Beyond the Valley of the Dolls was set to be chronicled in the film Russ & Roger Go Beyond. Will Ferrell was cast as Russ Meyer, while Josh Gad landed the role of Roger Ebert. But now, the film is likely dead. In a Market Watch piece chronicling how the Harvey Weinstein scandal and the #MeToo movement is changing Hollywood, Russ & Roger producer David Permut explains why:
"We had funding and were ready to make the movie...That green button turned into a red button literally overnight the moment the Harvey news hit the world. When those allegations happened, people had reservations about this film so essentially a green-lit picture turned into a project that was not going to get made....The consensus felt by our director and Will Ferrell and Josh Gad was it wasn't the right time to tell the story about a Hollywood filmmaker who makes sexploitation movies. I didn't necessarily believe that it's not the time to tell a historically accurate project based on this true story because I think something can be learned from it and Russ Meyer had strong women characters in his movies."
While I would've loved to see how Russ & Roger Go Beyond would've turned out, there's definitely a logic to this reasoning. At the same time, it's worth noting that most film historians consider Meyer's sexploitation flicks to embrace female empowerment rather than full-fledged exploitation. In his obituary for Meyer, Ebert wrote:
"Russ Meyer made X-rated movies, but he was not a dirty old man. He didn't use the casting couch, prohibited sex on his sets ("save it for the camera"), and was a serial monogamist...His films were unique in that the women were always the strong characters, and men were the mindless sex objects. The film critic B. Ruby Rich called him "the first feminist American director." Meyer took praise with a grain of salt. After "The Seven Minutes" (1971), an attempt at a serious mainstream big studio picture, flopped at the box office, he told me: "I made the mistake of reading my reviews. What the public wants are big laughs and big tits and lots of 'em. Lucky for me that's what I like, too."
That said, many of Meyers' films also depict violence – sometime of a sexual nature – towards female characters as well. In short, Meyer is a controversial figure, and a comical film profiling him might not have gone over well with some audiences, especially at this time. The movie may have turned out well in the end, but Permut seems to realize that nixing it might have been for the best, adding:
"Many people involved with the production felt the timing was no longer right for the project. A green-lit picture went away as a result of the changing times, but it is for the betterment of the world if we want to advocate equality for everybody. We are a little more attuned to the new world where bad behavior is not going to be rewarded."