'The First Purge' Featurette: "This Could Be A Real Situation"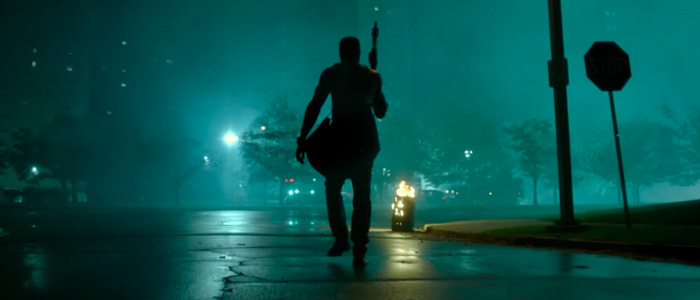 For the fourth entry in the ongoing The Purge horror franchise, Universal Pictures is taking us back to the very beginning to show how all crime became legal in the United States for one night every year. Check out The First Purge featurette below, which also doubles as a warning for the audience to make sure this doesn't happen in the real world.
The First Purge Featurette
"What makes The Purge saga scary is the fact that it's realistic because of the time we're in now," says star Lex Scott Davis. "This could be a real situation." The Purge franchise has always been explicitly about sociological and political issues, but in our current political climate, it feels more relevant than ever. A few years ago, this series felt like an over-the-top satire. In 2018, we're only a few steps away from it being a documentary. Now that's scary.
Side note: this featurette is indebted to Childish Gambino's wildly popular song/music video "This is America," because it uses those same words of text to hammer home its point in the final few seconds. That phrase didn't appear in earlier marketing, and since the film opens tomorrow, this will probably be its last opportunity to use it.
The First Purge stars Davis, Y'Lan Noel, Joivan Wade, Luna Lauren Velez, and Marisa Tomei. Gerard McMurray, the director of Netflix's Burning Sands and an associate producer of Ryan Coogler's Fruitvale Station, is directing. The script was written by franchise creator James DeMonaco, the writer/director of The Purge, The Purge: Anarchy and The Purge: Election Year. This will be the first entry DeMonaco doesn't direct himself, so it'll be interesting to see what McMurray brings to the mix.The Purge has been contained to films thus far, it's spreading to television this year. Check out the trailer for The Purge TV show if you haven't seen it yet.
Behind every tradition lies a revolution. Next Independence Day, witness the rise of our country's 12 hours of annual lawlessness. Welcome to the movement that began as a simple experiment: The First Purge. To push the crime rate below one percent for the rest of the year, the New Founding Fathers of America (NFFA) test a sociological theory that vents aggression for one night in one isolated community. But when the violence of oppressors meets the rage of the marginalized, the contagion will explode from the trial-city borders and spread across the nation.
The First Purge hits theaters on July 4, 2018.