'Ant-Man And The Wasp' Set To Make An $80 Million Debut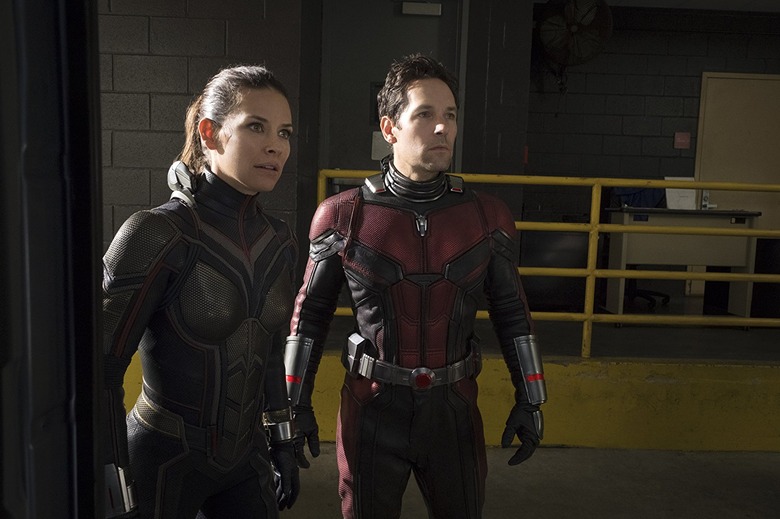 Compared to the previous Marvel film to hit theaters, the Ant-Man and the Wasp box office tracking looks like it has gone through a shrink ray. But the new projections for the Marvel Studios sequel aren't small potatoes. Ant-Man and the Wasp is eyeing an $80 million opening weekend haul, which is peanuts compared to the behemoth that is Avengers: Infinity War. But it is still significantly higher than the box office debut of the first Ant-Man.
Industry analysts estimate that the Ant-Man sequel will rake in between $70 million to $80 million at the box office when it launches in 4,100 theaters this Friday, according to Variety
That puts Ant-Man and the Wasp significantly ahead of Ant-Man's $57 million debut. Ant-Man went on to earn $519 million worldwide, including $180 million at the domestic box office. So we can expect the comic book sequel to do even better and perhaps cross the $200 million mark stateside.
Still, those projections mark Ant-Man and the Wasp as the lowest-opening Phase 3 Marvel Cinematic Universe movie since 2016's Doctor Strange, which opened to $85 million. But this isn't a sign of Marvel fatigue or even superhero fatigue — Ant-Man, with its low stakes and light-hearted tone, was never a heavy hitter for Marvel. And even with an $80 million opening (which is slightly higher than early projections), Ant-Man and the Wasp is still expected to be a box office success for Marvel. With Infinity War at $2 billion and counting and Black Panther sitting on top of $1.3 billion globally, Marvel is doing just fine.
Directed by Peyton Reed, Ant-Man and the Wasp sees the return of Paul Rudd, Evangeline Lilly, Michael Douglas, Michael Pena, T.I, David Dastmalchian, Judy Greer, and Bobby Cannavale. They are joined this time by Michelle Pfieffer, Hannah John-Kamen, Laurence Fishburne, Walton Goggins, and Randall Park.
Ant-Man and the Wasp opens in theaters on July 6, 2018.
Scott Lang is grappling with the consequences of his choices as both a superhero and a father. Approached by Hope van Dyne and Dr. Hank Pym, Lang must once again don the Ant-Man suit and fight alongside the Wasp. The urgent mission soon leads to secret revelations from the past as the dynamic duo fi

nds itself in an epic battle against a powerful new enemy.