'Skyscraper' Is On Track To Be The Biggest Original Live-Action Hit Of 2018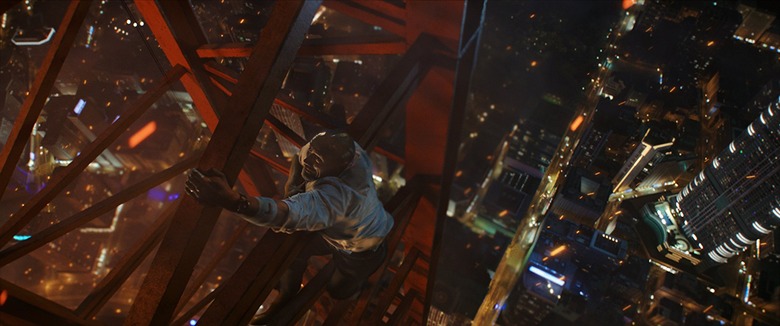 Skyscraper is aiming for some sky-high box office numbers. The early box office tracking numbers suggest that the Dwayne Johnson movie could become the highest-grossing original live-action movie of 2018. Not just of the summer — of the entirety of 2018.
Those are some towering box office expectations for the Rawson Marshall Thurber-helmed movie, but it's something that the action film could potentially, maybe pull off.
Forbes reports that Skyscraper, which stars Johnson leaping off tall buildings, is on track to open with around $32 million. That may sound like peanuts to those of us who are used to seeing Avengers: Infinity War or Incredibles 2 rake in $100 million-plus on opening weekend, but it is a big deal for Skyscraper. That's because of the top 5 highest-grossing movies at the box office this summer, not one of them is an original live-action movie. That makes Skyscraper an automatic winner in Universal's books.
Currently, the highest-grossing original live-action film of the summer is Book Club, which opened to $13 million and went on to rake in $66 million total. So Skyscraper could easily beat out its competition in this specific (and sadly, diminishing) category in the summer. But in the winter and spring of this year, we had surprise hits like A Quiet Place ($50 million opening, $187 million total) and Game Night ($17 million opening, $69 million total).
Scott Mendelson at Forbes notes that Johnson's star power helped push Rampage, Central Intelligence and Jumanji: Welcome to the Jungle to global success. Mendelson points to San Andreas' success as the formula that Skyscraper can follow — the disaster movie opened to similar numbers and went on to gross $155 million domestically and double that worldwide. "I'd imagine that Johnson's disaster thriller will repeat San Andreas' trick of being the year's biggest wholly original live-action movie and the year's biggest wholly original live-action hit," Mendelson writes.
And there's also the Chinese box office — which Skyscraper is clearly gunning for with its Chinese co-stars and Hong Kong setting. Mendelson seems to be thinking about Skyscraper's box office success more on a global scale than domestic — where lately we've seen Johnson have just has any misses (*cough,* Baywatch) as hits. But if these reports are anything to go by, get ready to change your summer movie bets.
Skyscraper opens in theaters on July 13, 2018.
Global icon Dwayne Johnson leads the cast of Legendary's Skyscraper as former FBI Hostage Rescue Team leader and U.S. war veteran Will Ford, who now assesses security for skyscrapers. On assignment in China he finds the tallest, safest building in the world suddenly ablaze, and he's been framed for it. A wanted man on the run, Will must find those responsible, clear his name and somehow rescue his family who is trapped inside the building...above the fire line.