'It Chapter 2' Cast Pic Sends The Losers' Club Back To Derry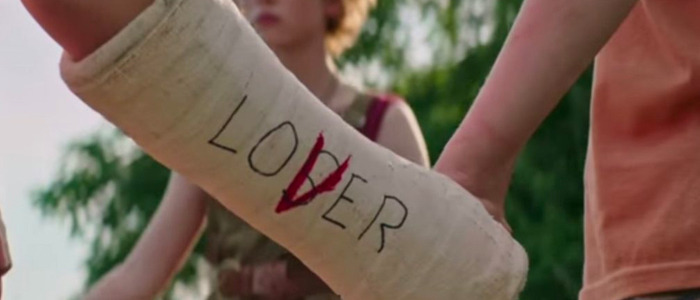 The It Chapter 2 cast is together at last. A new cast photo shows the grown-up members of the Losers' Club gathered for a table read, and while Pennywise the Clown is nowhere to be seen, you can be sure he's lurking out there somewhere.
Forget the Avengers. The team I'm most excited to see assemble is the adult Losers' Club in It: Chapter 2. The horror sequel is currently in production in Toronto, and a new cast photo has the Losers gathered together as if they're re-enacting Leonardo Da Vinci's The Last Supper.
Back to Derry with these Losers. 🎈#ITMovie pic.twitter.com/dvg0fEP9Ts

— IT Chapter Two 🎈🎈 (@ITMovieOfficial) July 2, 2018
In case you have no idea who is who here, allow me to help you, dear reader. From left to right:
Jessica Chastain as Bev Marsh, a part previously played by Sophia Lillis.
James McAvoy as Bill Denbrough; a part originated by Jaeden Lieberher.
Isaiah Mustafa as Mike Hanlon, played by Chosen Jacobs in the first film.
Jay Ryan as Ben Hanscom, previously played by Jeremy Ray Taylor.
James Ransone as Eddie Kaspbrak, played initially played by Jack Dylan Grazer.
Bill Hader as Richie Tozier, played in the 2017 film by Finn Wolfhard.
Andy Bean as Stanley Uris, originally played by Wyatt Oleff.
In addition to the cast photo, a new synopsis for the film has been released:
Because every 27 years evil revisits the town of Derry, Maine, "IT CHAPTER TWO" brings the characters—who've long since gone their separate ways—back together as adults, nearly three decades after the events of the first film.  Bill Skarsgård returns in the seminal role of Pennywise. James McAvoy ("Split," upcoming "Glass") stars as Bill, Oscar nominee Jessica Chastain ("Zero Dark Thirty," "Mama") as Beverly, Bill Hader (HBO's "Barry," "The Skeleton Twins") as Richie, Isaiah Mustafa (TV's "Shadowhunters: The Mortal Instruments") as Mike, Jay Ryan (TV's "Mary Kills People") as Ben, James Ransone (HBO's "The Wire") as Eddie, and Andy Bean ("Allegiant," Starz' "Power") as Stanley.  
In addition to this, Warner Bros. has confirmed the original Losers from the first film will all be returning as well, likely via flashbacks. Original director Andy Muschietti returns to helm the sequel, with a screenplay by Gary Dauberman, who co-wrote the 2017 film.
The 2017 adaptation of Stephen King's It was a huge hit, with both critics and audiences. The film was so popular it effectively triggered a new Stephen King adaptation renaissance, with more and more King adaptations announced daily. It's a pretty swell time to be a lifelong Stephen King fan, folks.
It Chapter 2 opens on September 6, 2019.