'Suspiria' Remake Compared To Kubrick, Made Quentin Tarantino Cry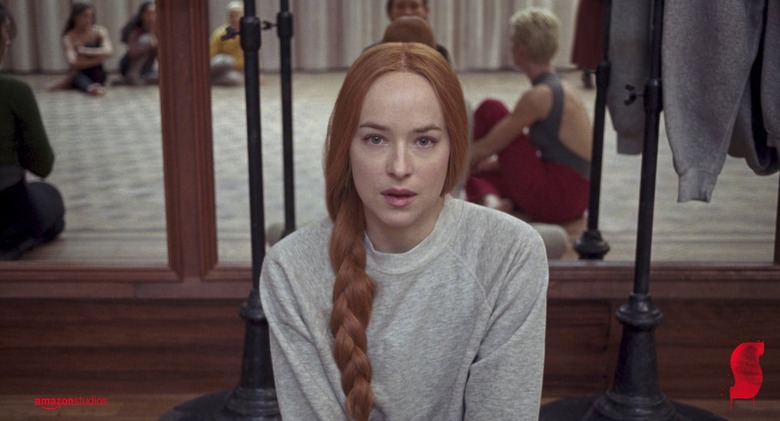 Details remain scarce about Luca Guadagnino's moody, ominous Suspiria remake, but by virtue of its Oscar-nominated director and stunning trailer, it's already one of the most highly anticipated movies of the year. Now, Suspiria star Chloe Grace Moretz and Quentin Tarantino are here to add to that anticipation.
Guadagnino's remake of the Dario Argento horror masterpiece Suspiria, grows more intriguing by the minute for a number of reasons. First, that anyone could dare to remake a Technicolor nightmare like Argento's 1977 horror film. Second, that it was Guadagnino, the Oscar-nominated director behind last year's Oscar darling Call Me By Your Name and A Bigger Splash, who was doing the remaking. And third, that the reception to the Suspiria footage screened at Cinemacon was so horrifying that one member of the press called it "one of the most fucked-up things I've ever seen at CinemaCon."
But as Guadagnino remains tight-lipped about his upcoming remake, Suspiria star Moretz is ready to step up to do the work of hyping up the film for him. Moretz gave effusive praise to Guadagnino's Suspiria while she was at an event during the Provincetown Film Festival earlier this month (via IndieWire):
"This is a really big statement, but this is the closest to modern Stanley Kubrick I've ever seen. You're put into a world, which I can only describe it as being like 'The Shining' in a lot of ways, where you're just encompassed in a filmmaker's brain and you're just implanted in there, and there's nothing like it that you will ever see."
For Moretz, who has starred in her share of horror remakes like Let Me In and Carrie, this is high praise. The actress stars as Patricia Hingle, who is played by Eva Axén in the original, but couldn't divulge too many details. "It's secretive and I want it to be secretive because you guys are gonna be so shocked. It is WILD. It's crazy," she added.
The Kubrick comparisons are a high bar for Guadagnino, especially since his style is worlds away from the cold, calculating direction of Kubrick. But from what we've seen of Suspiria, Guadagnino reigns in his usual dreamy aesthetic for a more subdued and sinister atmosphere.
But Moretz wasn't the only one to gush about Guadagnino's Suspiria. The Italian director revealed that he had showed the full film to none other than Quentin Tarantino, a director pretty well-versed in wild filmmaking. And it got an even better reaction than he anticipated, moving The Hateful Eight director to tears, Guadagnino revealed to the Italian publication La Repubblica:
"I showed it to Quentin Tarantino. We've been friends since our jury duty at the Venice Film Festival. I was nervous but eager to hear his advice. We saw it at his place and his reaction warmed me. He was enthusiastic about it, in the end he was crying and hugged me. Because it's a horror movie but also a melodrama, my goal was to make you look at the horror without being able to take [your eyes off the screen] because you're captivated by the characters. Amazon is very happy."
 We'll have to see if Suspiria lives up to the hypewhen it opens in theaters on November 2, 2018.
As a darkness builds at the center of a world-renowned dance company, its artistic director (Tilda Swinton), a young American new to the troupe (Dakota Johnson), and a grieving psychotherapist (Lutz Ebersdorf) become entangled in a bloody, sighing nightmare.