'Sorry To Bother You' Featurette Introduces Audiences To Eclectic Filmmaker Boots Riley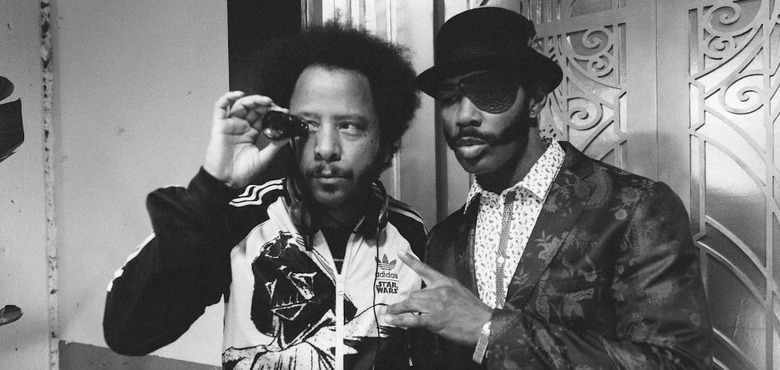 Though the summer blockbuster season is chock full of big studio tentpoles full of explosions, jokes, superheroes, car chases and more, it's also full of some lower key indie releases that you should be going out of your way to see. One of those movies is a wild, insane comedy that we already caught on the film festival circuit, and it's time for you to meet the director responsible for it.
Sorry to Bother You played at the Sundance Film Festival back in January where our own Ben Pearson called it "fanciful, disturbing, and wildly original," adding that the movie "announces the arrival of a fresh, bold voice in American cinema." That voice belongs to hip hop artist turned filmmaker Boots Riley, and a new featurette shows us who this man is and explores his wild brand of social satire.
Sorry to Bother You Featurette
As an activist and author, director and screenwriter Boots Riley has plenty to say through this social satire that takes aim at race, class and bureaucracy and it's bound to make you think just as much as it makes you laugh. Sorry to Bother You appears to be a true original, and it's absolutely worth seeing this month in between the rest of the blockbuster releases at your local multiplex. You might have to drive out of your way to see it, but that's an experience worth the trip.
Lakeith Stanfield (Get Out) and Tessa Thompson (Thor: Ragnarok) star in Sorry to Bother You, which also features Armie Hammer, Terry Crews, Steven Yeun, Omari Hardwick, Jermaine Fowler, and Danny Glover, as well as the voices of David Cross and Patton Oswalt.
Cassius Green (Lakeith Stanfield), a 30-something black telemarketer with self-esteem issues, discovers a magical selling power living inside of him. Suddenly he's rising up the ranks to the elite team of his company, which sells heinous products and services. The upswing in Cassius's career raises serious red flags with his brilliant girlfriend, Detroit (Tessa Thompson), a sign-twirling gallery artist who is secretly a part of a Banksy-style collective called Left Eye. But the unimaginable hits the fan when Cassius meets the company's cocaine-snorting, orgy-hosting, obnoxious, and relentlessly optimistic CEO, Steve Lift (Armie Hammer).
Sorry to Bother You gets a limited release on July 6, 2018 and expands into more theaters on July 13, 2018.