Kevin Feige Thinks 'Black Panther' Deserves Oscar Recognition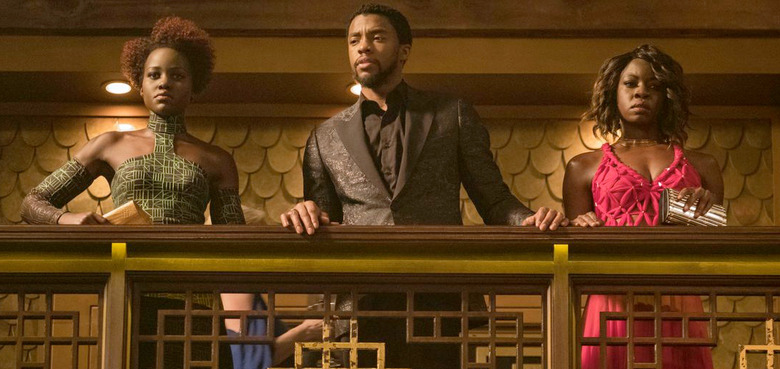 As soon as it hit theaters in February of this year, Black Panther started to earn Oscar buzz. Yes, it was six months too early to start talking about the 2019 Oscars when we had just finished arguing about how "safe" The Shape of Water was, but goddammit, Black Panther was that good. And while superhero movies haven't had a great track record at the Academy Awards, the prestigious awards ceremony has been kinder to genre fare in recent years.
So what are the Black Panther Oscar chances? Well, Marvel Studios chief Kevin Feige is here to weigh in, and he's pretty optimistic.
In an interview with Vox, Feige was asked whether he thought Black Panther had a chance of Oscar recognition, and whether Marvel was gearing up for a campaign for the comic book movie. Weighing his words carefully in the typical Feige way, the Marvel Studios president said that he would be happy if the cast and crew received a few Oscar nominations.
"I think there are a lot of amazing artists that helped to make that movie, and it would be wonderful if they could be recognized. Almost everyone involved in that movie, bringing that movie together, is great, and it would be wonderful to see if they're recognized. We'll see. This genre, typically not.
And I think it would be a wonderful thing for Panther and for our production designer Hannah [Beachler], and our costume designer Ruth [Carter], and for Ryan [Coogler] who co-wrote the script with Joe Robert Cole, and of course directed the movie. And Michael B. Jordan, and Chadwick [Boseman] and Lupita [Nyong'o] and Letitia [Wright]. There's amazing performances, amazing artistry in that. I'd love to see them recognized, and I'd love to see this genre recognized. Yes, they're visual effects, yes, they are fun explosions, yes, there are spaceships. But these are all hand-crafted. Maybe it's in front of a computer; it's often actual sets, actual hand-built costumes. As much passion and artistry and talent goes into every single one we do; it'd be amazing for them to be recognized."
Feige named virtually every role eligible for an Oscar nomination — from The Big Five acting and directing categories, down to the visual effects nominations that superhero movies usually earn. But he seemed to err more on the side of optimism than pessimism, which makes me think that Feige and Marvel are truly gearing up for a Black Panther Oscar campaign. Of course, Feige was tight-lipped on whether a campaign was taking place, but reports in March suggested that Disney is already planning a huge push for Black Panther.
So now Feige, in addition to Christopher Nolan, is the latest to join the Black Panther Oscar train. True, it's still a little early to be talking about the Oscar race, but consider this the start of Black Panther's long and winding road to the Oscars.