AMC Stubs A-List Review: Convenient And Worth It If You Live Near AMC Theatres That Play Good Movies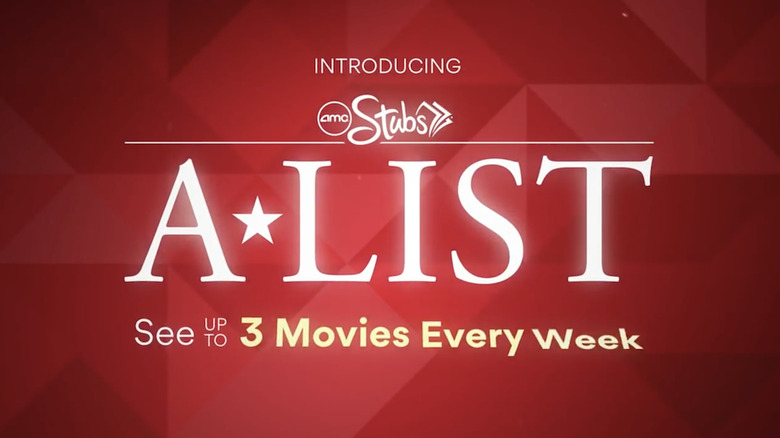 AMC's recently-announced Stubs A-List subscription is very exciting because it's the first subscription service from a major chain to seriously compete with services like MoviePass and Sinemia. Sure, there've been pretenders to the throne like Cinemark's Movie Club, but A-List's value proposition actually poses some serious challenges to MoviePass's domination of the subscription market. Below, you can watch my video review and read up on what's great (and not so great) about A-List.
The Basic Gist
A-List allows you to see up to three movies at AMC Theatres every week for $19.95 plus tax per month. The biggest benefit to the program is that you can see three movies per week, and you can basically use those three movies however you want (for the most part). You can see the same movie three times all in one day, or you can spread them out over the course of the week. You can also see movies in IMAX, Dolby, and RealD. Perhaps most importantly, you can reserve tickets in advance, and even choose your seats for screenings that support it. Services like MoviePass have started restricting you to one movie per day, or may not allow you to see the same movie twice. These aren't problems for A-List.
However, there are a couple of minor caveats to this. First of all, you can't book any movie times that are in the past. I know what you're thinking — why would anyone want to book a movie time in the past?! — but if you're like me, sometimes you like to show up 10 minutes after showtime to skip the trailers. You can still do that with A-List but you just can't leave the booking until the last second. You must book in advance.
Secondly, the movie showtimes need to be at least two hours apart for you to book them. I don't think that's a huge problem, but if you're seeing a super short movie and want to stack another movie on top of it right after, it could be an issue. It hasn't come up for me yet, but it is a restriction that AMC has put into place and may be a problem for back-to-back screenings.
On the plus side, I also want to point out that every Stubs A-List membership also includes a Stubs Premiere membership, which means you get all those benefits free. This means your online ticketing fees are waived, free popcorn and fountain drink upgrades, and under certain circumstances you can skip the line at the theater. The regular price of Stubs premiere is $15 per year, so not a bad little perk for joining A-List (see the full list of perks here).
Your A-List subscription is managed through the AMC app. I found the app to be pretty easy to use and it allowed me to make ticket reservations speedily.
The Downsides
I want to mention a couple of things about the program that some people might find annoying. First of all, A-List requires a minimum three-month commitment, which is about $60. That's not too bad if you're planning to commit for the long term anyway, but some people might find it irritating that you have to commit three months to a service you haven't used yet. This prevents A-List from being an impulse purchase, although you only get billed monthly for the three months (and you get to use your benefits during that whole time). You don't need to fork over $60 up front.
Secondly, A-List requires everyone to be over 18 years old. This means no kids, and if you have a family, that might be pretty annoying. My guess is this is to prevent kids from camping out at AMC Theatres all summer, since kids have a lot more time than adults to watch movies. Theoretically, mom and dad could buy subscriptions and then pay for the kids' tickets separately, but it seems like a bit of a hassle. For now, A-List is not a family friendly plan.
Finally, unlike a regular calendar which typically begins on Sunday and ends Saturday, the "week" for A-List begins on Friday and ends on Thursday. I don't know about you, but most people I know watch movies on Friday, Saturday and Sunday. But because of the way the A-List week is structured, you can't see three movies on Saturday then see 3 movies on Sunday. You must spread them out over those days. On the flip side, many new movies do open on Thursday night and you can use an A-List slot for those.
Is it Right For You?
So is A-List worth it? I'd say yes under certain circumstances: 1) If you have a lot of AMC theaters around you, 2) If you're happy with AMC's movie selection generally, and 3) If you normally pay to see at least two movies per month. If this describes your situation then I'd say it's a really solid option. Even better, since A-List is officially sanctioned by AMC, you don't need to deal with a bunch of the annoying things that you have to deal with when it comes to MoviePass. You don't need to "check in" to movie showings or take photos of movie stubs to prove that you went. You also don't need to deal with things like surge pricing, which MoviePass recently announced. It's just a much smoother process.
However, MoviePass also has a bunch of advantages. The biggest one is, of course, price. It's $10 per month compared to A-List's $20. Now, I'd argue that pricing creates a lot of problems for MoviePass. AMC has called it unsustainable, and I have a lot of questions as to whether MoviePass's long-term business model is actually a viable one for them. But for that price, you can see movies at Landmark, Regal, and Cinemark — and often those theaters will have the high-quality, up-and-coming indie films that AMC won't have.
I'm extremely lucky because I live in a place with a bunch of AMC Theatres and my AMC theatres show a huge range of movies from the latest Avengers to obscure foreign films. But if you only have one or a few AMC Theatres near you, then I can totally understand why A-List is not a good deal for you. But for me, A-List is a fantastic option and I think it will be for a lot of people.
Will you be subscribing to Stubs A-List? Let us know in the comments.
Pros: 
Well integrated with AMC's app and services
You can use the 3 movies per week on the same film, or on the same day
Dolby, IMAX, Real3D, etc. are all a-okay
Pricing is guaranteed for at least a year
Cons: 
3-month minimum commitment
A-List's "week" starts on Friday and ends on Thursday, making Saturday/Sunday movie viewings a bit restricted
No option if you want more than 3 movies per week
No family plan
$20/month, which is more expensive than several competing services