'It's Always Sunny In Philadelphia' Returns This Fall, With Dennis In North Dakota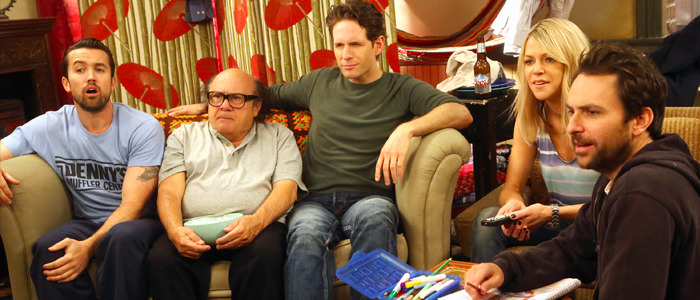 In 2016, FXX renewed the comedy It's Always Sunny in Philadelphia for a 13th and 14th season, which will tie it with The Adventures of Ozzie and Harriet as the longest-running live-action comedy series in American television history. So we knew the show was coming back, but last year's season 12 finale left things in a dramatically different place for Dennis (Glenn Howerton), Mac (Rob McElhenney), Dee (Kaitlin Olson), Charlie (Charlie Day), and Frank (Danny DeVito). Keep reading to learn the newly-announced It's Always Sunny premiere date, as well as what to expect in this new era of the show.
The season 12 finale was the first time a season of It's Always Sunny ended on a genuine cliffhanger: Dennis unexpectedly learned that he was a father and decided to leave Philadelphia to be with his child. Now a new press release (via IndieWire) says Dennis "takes on the new role of father in North Dakota" for season 13, which premieres on FXX on Wednesday, September 5, 2018.
The Gang Returns...mostly...in the 13th season of the FXX original comedy series 'It's Always Sunny in Philadelphia.' Mac, Charlie, Dee, and Frank return to their duplicitous, scheming ways at Paddy's Pub, while Dennis takes on the new role of father in North Dakota. Last season, the Gang experienced new highs — Mac acknowledged his sexuality and Charlie convinced the Waitress, his longtime target of affection, to move in with him — and the lowest of lows — Frank became the official beverage sponsor of a terrorist group, Dee helped a man reach rock bottom, and Dennis was investigated for murder.
Even without Dennis Reynolds, the Gang has its hands full as Charlie hopes to have a child with the Waitress, Mac sets out to understand his newfound sexuality, Dee takes feminism to new heights, and Frank goes to great lengths for the Gang to experience the greatest moment in Philadelphia sports history — an Eagles Super Bowl victory.
It's Always Sunny has unquestionably experienced some ups and downs over the years, but it's yet to hit a creative bump that threw it off for more than a few episodes at a time. Separating a key member of the gang sounds like a challenge, especially since Kaitlin Olson previously implied that Howerton's Dennis won't be returning for every episode in the season.
Dennis is arguably the biggest schemer of the group, so his loss could drastically change the dynamic of the remaining members. The description makes it seem like there may be room for some self-reflection after years of being some of the most selfish people ever, but hearing about Frank's Super Bowl antics also ensures that they probably won't be straying too far from the selfish douchebags we know and love.