Greta Gerwig Eyes 'Little Women' As Her Next Project; Meryl Streep, Saoirse Ronan, Emma Stone, Timothée Chalamet All In Talks To Star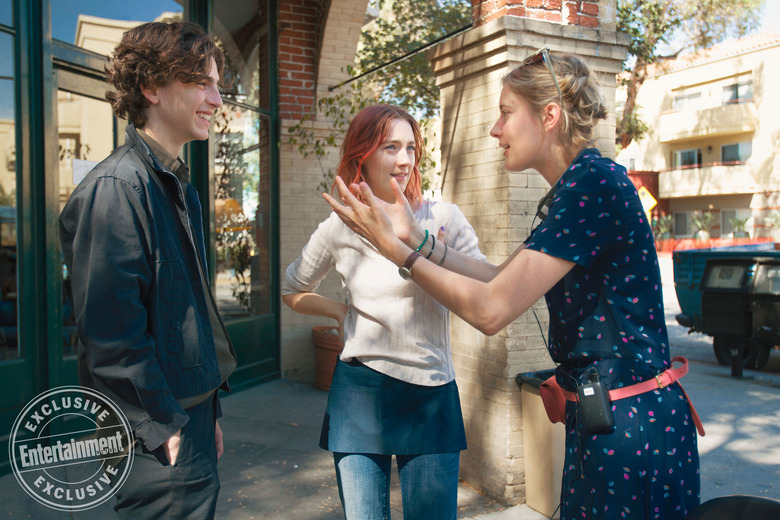 Greta Gerwig may have landed her next directing gig after making a splash with last year's award-winning Lady Bird. The Oscar-nominated director is reportedly eyeing a Little Women remake, which may have the most star-studded cast since the last Little Women feature film.Variety reports that Greta Gerwig is in talks with Columbia Pictures to helm a new Little Women adaptation. The project is already attracting an array of A-list actors who are circling roles, including Meryl Streep, Emma Stone, and Florence Pugh, as well as Gerwig's Lady Bird stars Saoirse Ronan and Timothée Chalamet.
Ronan is eyeing the role of Jo March, the strong-headed writer and de facto protagonist of the series, while Chalamet would play Jo's childhood friend (and the dreamboat of many a young reader's fantasies) Laurie Laurence. Stone and Pugh are in talks to play Jo's sisters, Meg and Amy, respectively, while Streep is eyeing the role of Marmee, the mother struggling to raise her four teenage daughters while her husband has been called away by the Civil War. The studio is currently testing actresses for the role of the kind-hearted sister Beth.
Gerwig was initially brought in to rewrite the draft for Little Women, but following Lady Bird's massive critical and commercial success, Sony has been wooing Gerwig to direct the film. Sources tell Variety that Gerwig is on board once she secures her "dream cast," which the above actors may very well be.
This adaptation of Louisa May Alcott's beloved novel will reportedly be a "retelling" of the coming-of-age tale of four sisters growing up during the Civil War. If it's a "retelling," it's possible that Gerwig's adaptation will be a modern remake — which makes some sense considering the ages of the actors in talks for the sisters are much older than the teenaged characters in the novel.
Little Women had been adapted several times into feature films and was recently made into a BBC miniseries that aired late last year. But the most popular adaptation was Gillian Armstrong's 1994 adaptation starring yet another who's who of teen "It Kids," Winona Ryder, Christian Bale, Kirsten Dunst, and Claire Danes. This new cast led by Ronan and Chalamet would certainly live up to the greatness of the '94 cast — especially Chalamet, whose gorgeous mane would definitely rival Bale's floppy hair.
But I do slightly worry over the "retelling" aspect of this classic story. I'm not sure if Little Women is suited to a modern remake — just look at the cheesy trailer for the modern Little Women that's hitting theaters later this year. But at it's heart, Little Women is a tender coming-of-age story, and no one is better at coming-of-age stories than Gerwig. So perhaps a Little Women "retelling" wouldn't be so bad after all.