Michael Moore's Donald Trump Documentary 'Fahrenheit 11/9' Is Coming In September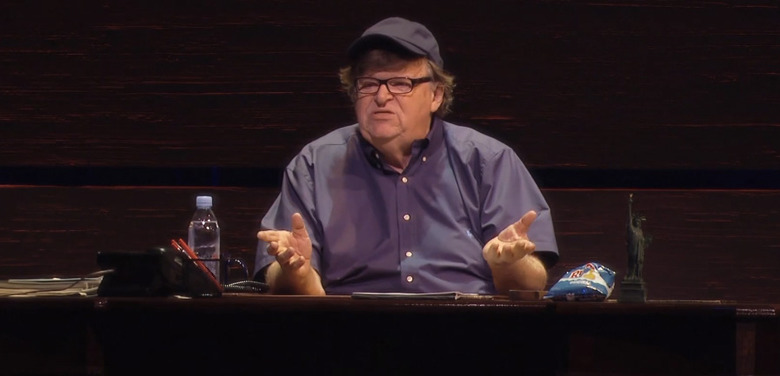 Michael Moore has made quite the controversial career for himself as a liberal documentary filmmaker who focuses on the hot topics plaguing our society and making headlines. And since the man doing both of those things everyday is none other than President Donald Trump, it should come as no surprise that Moore has a new documentary focusing on the reality TV host turned leader of the free world.
Michael Moore's new documentary is called Fahrenheit 11/9, taking a cue from the filmmaker's previous George W. Bush skewering title Fahrenheit 9/11. In this case, the numbers in the title refer to the night that Donald Trump was elected President of the United States of America. But what specifically will the documentary focus on? Michael Moore discusses below.
Michael Moore Donald Trump Documentary
Michael Moore appeared on The Late Show with Stephen Colbert last night, and that's where he announced that Fahrenheit 11/9 was the official title of his new documentary. Furthermore, the film will get released on September 21, 2018 this fall. Moore wasn't ready to reveal too much about what the central focus of the film was, besides Donald Trump himself, but he did say that it will feature things that we haven't seen or heard before.
Thankfully, an official synopsis (via The Hollywood Reporter) gives us a little more insight into the project, but not much:
"Michael Moore's Fahrenheit 11/9 is a provocative and comedic look at the times in which we live. It will explore the two most important questions of the Trump Era: How the f**k did we get here, and how the f**k do we get out? It's the film to see before it's too late."
If you watch the clip about from The Late Show at the 1:45 mark, Moore brought a clip from the documentary featuring the filmmaker himself walking into Mar-a-Lago in Palm Beach, the private country club that has come to be known as the Southern White House. It's a location where Donald Trump has spent plenty of time, costing taxpayers millions of dollars for transportation and security costs. And apparently Trump was too busy to see Michael Moore.
The scene in question is a throwback to Michael Moore's documentary Roger & Me, where he visited General Motors headquarters in an attempt to meet its CEO Roger B. Smith at a time when the auto industry was in shambles and the motor company created a devastating economic impact by closing several auto plants in his hometown of Flint, Michigan.
It's just a taste of what Moore has in store for the documentary, because the filmmaker offered up this threat, "I know Roseanne. And I know Trump. And they are about to rue the day they knew me." He even references a time when he appeared on The Roseanne Show back in 1998. In that same episode, Donald Trump also happened to appear on the show, congratulated Moore on Roger & Me, and then said, "I hope you never do one on me." Moore shared a clip from the show back at the end of May:
Frankly, I can't wait to see what kind of dirt Moore digs up on the man who has spent 118 days of his presidency playing golf at one of his resorts, and every day of the rest of his presidency destroying this country for everyone except racists, sexists, millionaires and Vladimir Putin. Since Donald Trump has no problem tearing apart immigrant families and ruining the lives of hundreds of children, I'm very much looking forward to the downfall of this man and every despicable member of his family and administration.
Oh, and just for good measure, Jon Stewart also stopped by The Late Show with this message for the Orange-in-Chief: