Disney Is Shutting Down Direct-To-Video Animation Studio Disneytoon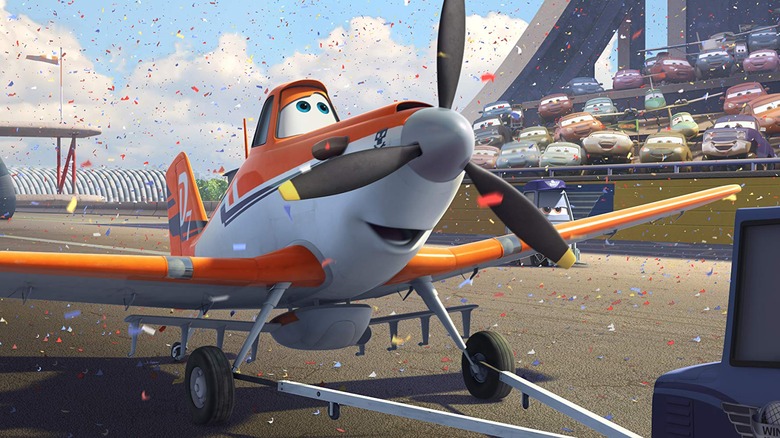 Disney is shutting down Disneytoon Studios, the longstanding animation division behind Disney's direct-to-video releases and the Planes franchise.
In the wake of John Lasseter's departure from the Walt Disney Co., the company is shuttering the Glendale-based Disneytoon Studios, Indiewire reported. The closure, which will result in the loss of an estimated 75 animators and staff positions, will take place immediately.
"After much consideration, we have made the decision to end production activity and close Disneytoon Studios," a Disney spokesperson said.
All current projects at Disneytoon have been halted. An untitled feature about the future of aviation from Planes' Klay Hall and Bobs Gannaway was removed from its March 2019 theatrical release date, and is no longer in development.
The shutdown comes on the heels of Lasseter leaving his position as chief creative officer of Pixar Animation Studios, Walt Disney Animation Studios, and DisneyToon Studios following allegations of sexual misconduct. Pete Docter and Jennifer Lee will succeed Lasseter after he departs the company in December of this year. However, Indiewire reports that Disneytoon Studios' shutdown is unrelated to the Docter and Lee's promotions, and has been in the works for a while.
Disneytoon is part of a long history of Disney's direct-to-video sequels. Originally named Disney Movie Toons when it was created in 1988, the division was rebranded Disneytoon in 2004. Disneytoon has produced 47 feature films, most of which where direct-to-video sequels to popular Disney animated films, like The Little Mermaid II: Return to the Sea, Lion King 1 1/2, and Lilo & Stitch 2: Stitch Has a Glitch. However, the studio has produced some theatrical releases like A Goofy Movie and more recently the Planes franchise — itself a spin-off of Pixar's Cars.
Lasseter had helped spearhead a new direction for Disneytoon, first with his support of the six-film Fairies franchise (a spin-off series revolving around Tinker Bell), and with the two theatrical Planes releases.
However, with the advent of streaming and Disney's introduction of its own streaming service, profits in the direct-to-video market are starting to wane, which may have had an impact on Disney's decision to shutter Disneytoon.