Valiant's Plus-Sized Superhero 'Faith' Is Getting Her Own Movie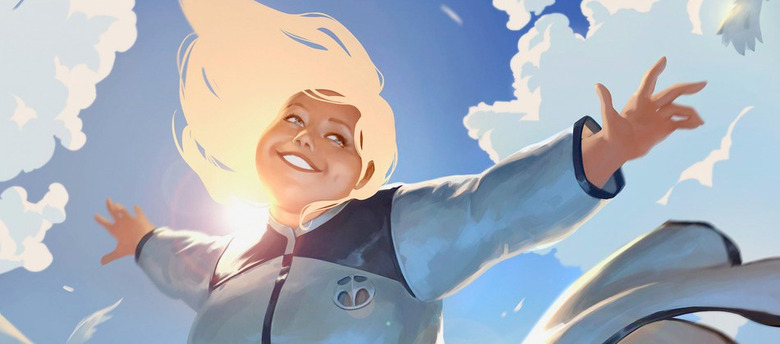 People come in all shapes and sizes, so superheroes should too. While there have been plenty of male superheroes who haven't had the traditional buff physique that a superhero has had in comic books, female comic book characters have often been drawn with unrealistic body proportions. They have super small waists and sizeable bosoms and backsides, creating unrealistic expectations, especially for younger, impressionable readers. But one superhero from Valiant Comics has tried to change that, and now she'll get her own movie.
Faith is the first prominent plus-sized female superhero to grace the pages of Valiant Comics, and Sony Pictures has ordered a live-action adaptation of her comic book for the big screen. If you haven't heard of Faith, find out more below.
Valiant Comics first introduced Faith Herbert, aka Zephyr, in Harbinger #1 back in 1992. But the character didn't rise to prominence until 2016 when the comic company gave her an ongoing monthly series. Faith went on to be named one of the best comics of that year by Nerdist, Vox, Uproxx, Barnes and Noble, and Amazon.
Now Deadline reports a Faith superhero movie will be adapted by American Gods writer Maria Melnik, joining the other Valiant Comics movies in the works like Bloodshot, Archer & Armstrong and Harbinger.
What's great about Faith is that she's treated just like any superhero. Her name comes from the fact that even in the face of the most challenging obstacles, she remains optimistic and upbeat. And at a time when plenty of comics have opted to go dark and gloomy, it's nice to have a superhero with some positivity given the spotlight.
As for Faith's superpowers, she has the ability to fly, and can bring other people and items with her by the way of telekinesis. She's also been known to using her powers for shielding, ramming, and manipulating mechanisms and people. Faith has also been known to save a dude or two in distress.
While the Faith screenplay has just been ordered by Sony, there's a chance we might see her on the big screen before she gets her own solo movie. Screenwriter Eric Heisserer seemed to indicate that Faith might pop up in the developing Harbinger before she gets her own movie. He told us back in February of last year:
"From Harbinger, Faith is such a remarkable and fresh character. I had such fun writing her. If I ever felt a little inundated or overwhelmed by the work I had to do on Harbinger, I'd just pick up an issue of Jody Houser's Faith title and I'd read some pages and get excited again."
So there are some big plans for the Valiant Comics cinematic universe. But let's see if they can get one successful movie based on Valiant Comics on the big screen first before we get too excited. Then again, Faith might be better on her own for her first time out rather than being part of a superhero ensemble.