'Glass' Poster Brings Together M. Night Shyamalan's 'Unbreakable' And 'Split'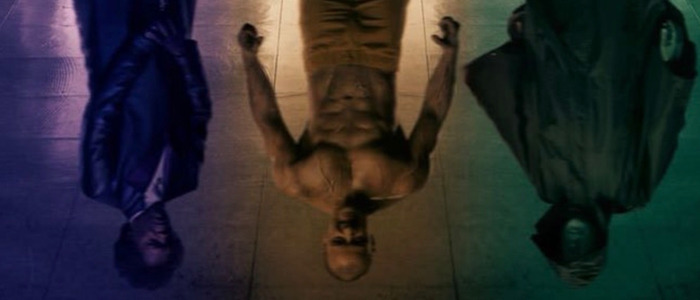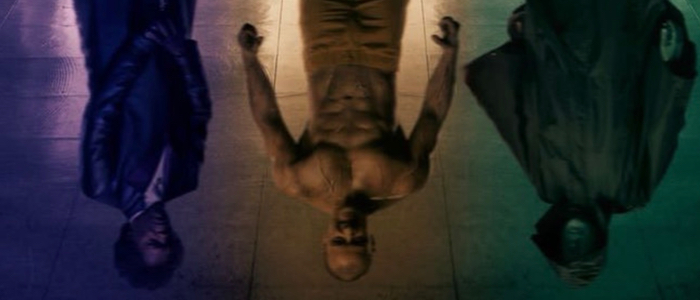 M. Night Shyamalan, master of twist endings, unleashed one of his biggest twists of all with the 2016 thriller Split. At the end of the film, the director revealed that Split was set in the same universe as his 2000 superhero deconstruction film Unbreakable. Now, Shyamalan is bringing these threads together with Glass, a film that's both a sequel to Unbreakable and Split. Feast your eyes on the incredible first Glass poster below.
But if you need your #GlassMovie fix before July 20th, here's the world premiere of our teaser poster. pic.twitter.com/HsMa0bzR7N

— M. Night Shyamalan ⌛ (@MNightShyamalan) June 29, 2018
Oh, hell yes. I am all-in on this. M. Night Shyamalan took to Twitter today to unleash the first Glass poster, and it's wonderful. The poster brings together three of Shyamalan's characters: James McAvoy as Kevin Wendell Crumb, the villain from Split; and Bruce Willis as David Dunn and Samuel L. Jackson as Elijah Price/Mr. Glass, the hero and villain (respectively) of Unbreakable.
Split focused on a trio of young women who were abducted by McAvoy's character – a man with 23 different split personalities. As the film unfolded, it was revealed one of his personalities – named The Beast – possessed supernatural, or superhuman abilities. And that wasn't all: at the very end of the film, after McAvoy's Kevin Wendell Crumb escaped capture, Shyamalan cut to a scene featuring David Dunn, the main character of Unbreakable.
Not long after the release of Split, Shyamalan announced Glass – a film that would tie Split and Unbreakable together. Shyamalan debuted footage from Glass at this year's CinemaCon, and revealed that in the film, McAvoy, Willis and Samuel L. Jackson's characters were all incarcerated together in an asylum. This poster re-affirms that, as we see the three characters sitting side-by-side in a hospital-like setting, with Willis in chains.
Here's the official synopsis:
Following the conclusion of Split, Glass finds Dunn pursuing Crumb's superhuman figure of The Beast in a series of escalating encounters, while the shadowy presence of Price emerges as an orchestrator who holds secrets critical to both men.
I'm very hyped about all of this. I've been a ride-or-die Shyamalan fan since the beginning. I'm one of those weirdos who defends both The Village and The Happening, and I stuck with him even when he was churning out dreck (I'm looking at you, Lady in the Water). Split was a lot of fun, and Unbreakable is one of the filmmakers best movies. The prospect of him bringing those two worlds together is exciting as hell.
Shyamalan also confirmed on Twitter that he would be bringing Glass to Hall H at SDCC this year on July 20.
I'm so excited to tell you that @GlassMovie will be at #ComicCon. I will be in Hall H on July 20th with the cast! You can expect a surprise as well...

— M. Night Shyamalan ⌛ (@MNightShyamalan) June 29, 2018
It's very likely that July 20 is when the Glass trailer will be unleashed  – first at SDCC, then online. We'll keep you posted.
In addition to McAvoy, Willis and Jackson, Glass also stars Anya Taylor-Joy, reprising her role from Split; Spencer Treat Clark, reprising his role from Unbreakable; and Sarah Paulson, playing "a psychiatrist specializing in delusions of grandeur who treats patients convinced that they are superhumans."
Glass opens on January 18, 2018.