'Harry Potter And The Cursed Child' To Spread Its Magic To California In Fall 2019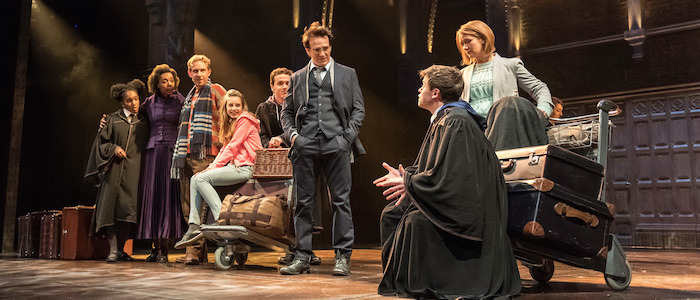 Harry Potter and the Cursed Child will bring its unique brand of magic to the West Coast.
After originating at London's West End, the Tony-winning Harry Potter play continues to head westward following an acclaimed run in New York City. The show will arrive in California in 2019.
Harry Potter and the Cursed Child will make its West Coast premiere at San Francisco's Curran Theatre in Fall 2019, according to Deadline. With the California premiere, that will mark the fourth production of the wildly popular play that has seen critical acclaim in London and New York, with a planned engagement for Melbourne, Australia.
No information on performance dates, purchasing tickets, casting and further details have been released yet, but Deadline notes that we'll probably learn more in the coming months.
Producers Sonia Friedman and Colin Callender, announced the production in a joint statement, praising the Curran Theatre, and thanking the Ambassador Theatre Group for "working their magic" to find the "ideal home" for the production. The choice of theater is likely a pivotal one for Harry Potter and the Cursed Child, which relies on all kinds of complex effects and pyrotechnics to sell the magic of the beloved fantasy story. In fact, it's ostensibly those stage illusions that elevate the stage play from the convoluted script book that Harry Potter fans eagerly devoured and rejected (including yours truly).
Theater producer Carole Shorenstein Hays added that Curran, and the tech hub of San Francisco in particular, was the perfect fit for Harry Potter and the Cursed Child:
"The Bay Area is where cutting-edge culture meets cutting-edge technology, so this wonderful example of riveting storytelling and first-of-its-kind stage magic has found its ideal home in our great city. My family and I are filled with joy thinking about all the audiences coming to San Francisco to experience Harry Potter and the Cursed Child – particularly first-time and young theatergoers, who have always been a core part of our mission."
Since Harry Potter and the Cursed Child first debuted to much fanfare at London's West End in 2016, the play written by J.K. Rowling, Jack Thorne, and director John Tiffany has collected scores of prizes, including 9 Olivier Awards and six Tony Awards. And it looks like it will continue going strong, spurred on by the magic of our favorite boy wizard, Harry Potter.