'Solo' Screenwriter Jonathan Kasdan Taking Over 'Indiana Jones 5' Script; Film Will Miss Its 2020 Release Date [Updated]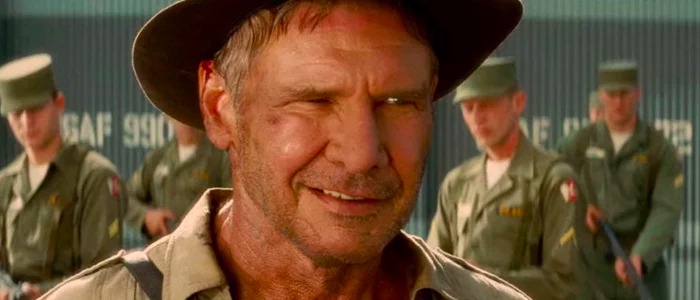 Update: It is now being reported that Indiana Jones 5 will not open in 2020. We have added the new details below.Solo co-writer Jonathan Kasdan has replaced David Koepp as the screenwriter of Indiana Jones 5. Harrison Ford will return for one final time to play the Nazi-punching archeologist. More on the Indiana Jones 5 writer below.Collider is reporting that David Koepp, who wrote Indiana Jones and the Kingdom of the Crystal Skull and was originally hired to pen the Indy 5 script, is no longer working on the film. Instead, Jonathan Kasdan, who co-wrote the recent Solo: A Star Wars Story, will write the script. Steven Spielberg will once again direct the latest outing for everyone's favorite fedora wearing archeologist, and Harrison Ford is returning for what is likely to be his final time in the role.
Kasdan assuming writing duties brings the Indiana Jones series full circle, as his father, Lawrence Kasdan, wrote the script for the first Indiana Jones adventure, Raiders of the Lost Ark, and helped create many of Indy's iconic traits.. And of course, both Kasdans just had a hand in Solo – a film about a character Indiana Jones star Harrison Ford originated. This also indicates that despite Solo underperforming at the box office, Lucasfilm isn't laying any blame on Kasdan, and are more than happy to have him involved with future films.
Koepp has a long history working with Spielberg. He wrote scripts for Spielberg's Jurassic Park, The Lost World and War of the Worlds. Of course, Koepp also wrote Kingdom of the Crystal Skull, a film that many Indiana Jones fans were none too pleased with. Collider points out that it's not entirely clear what Jonathan Kasdan's duties on the new Indiana Jones script will be. He could be simply doing a polish on Koepp's draft or he could start fresh with a whole new screenplay.
No one really knows what Indiana Jones 5 will be about, but rumors suggest it will end with Indiana Jones passing his whip down to a younger actor. This sounds similar to early rumors surrounding Crystal Skull, where many assumed that Shia LaBeouf, playing Indy's son Mutt Williams, would take over the franchise. That, of course, didn't happen. And it's already been confirmed that LaBeouf will not be returning for Indiana Jones 5.
The Indiana Jones franchise is in an interesting place right now. While Crystal Skull isn't nearly as terrible as some make it out to be, the general consensus is that it wasn't the new Indiana Jones film fans were hoping for. With this fifth entry, Spielberg and Ford have a chance to end the franchise on a high note. But what comes next? At one point, a rumor surfaced that the franchise would be rebooted with Chris Pratt playing Indiana Jones. Nothing has come of that, though. Personally speaking, I'd like the Indy franchise to end for good after this entry. I'm sure Spielberg and company can pass the franchise on to a new actor if they really want to, but Solo recently proved that it's very hard to find an actor to fill Harrison Ford's shoes.
Spielberg was originally set to start shooting Indy 5 in April 2019, with a planned July 2020 release, but that's unlikely now. Spielberg will also be helming a remake of West Side Story, because he likes to keep busy.
Update: Variety is now reporting that Indiana Jones will no longer open in 2020. This definitely suggests that new screenwriter Jonathan Kasdan is doing a complete overhaul of the script, rather than a rewrite. As Variety says, "Jonathan Kasdan, son of "Raiders of the Lost Ark" scribe Lawrence Kasdan, has been enlisted to deliver a new draft."